EverStart Deep Cycle Battery
Built for Canada Tough ,Group size U1 , Absorbed Glass Mat ( AGM ) , 32 Amp hours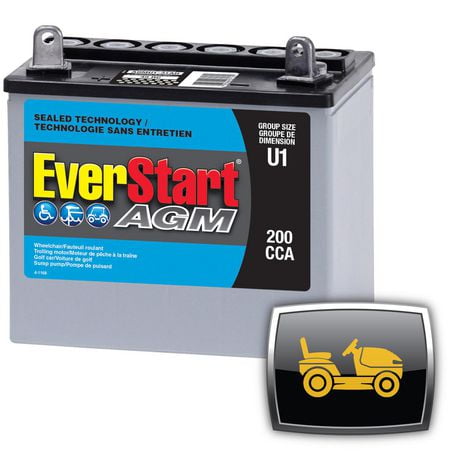 Built for Canada Tough with absorbed glass matt technology. Quality Batteries at a great price!
Manufactured in the USA by the battery Industry's leader in quality and performance. MAXX AGM Batteries are especially designed to handle factory installed electronics to anything that plugs in or turns on, and still deliver dependable starting power. This product is spill proof, sealed, valve regulated and vibration resistant. It can also be mounted in almost any position. Ideal for use in Wheelchairs, Trolling motors, golf cars and sump pumps.
Walmart will recycle your old spent Batteries free of charge! Virtually 100% of each spent battery is recycled into a new product. 65% of all lead used in the manufacture of new EverStart Batteries are from recycled lead.
Absorbed Glass Matt Technology

• 32 Ahr capacity
• 5 year total Warranty with 3 years free replacement
• Premium maintenance-free power delivers optimized starting and cycling service
• Spill-proof design provides added safety for user and protection for sophisticated electronic equipment
• 2 x the cycle life* extends performance and life
• 20x more vibration protection* safeguards battery performance over time
• Faster, more efficient recharging and higher cold temperature performance
• Heavy-duty Power-Perform™ plates with full-frames prevent shorts and maximize energy storage and delivery

Compared to conventional designs*
Brand
Product Identifiers
Walmart Item #
UPC
Model #
SKU