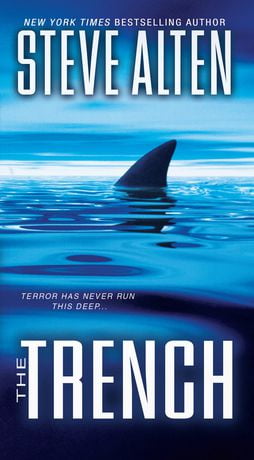 We're sorry! This product is not available. 
New York Times bestselling author Steve Alten once again unleashes the power of his blockbuster, Meg, in a heart-stopping new novel. The thrilling menace and magnificence of sharks continues to hold us in thrall -- and, like Peter Benchley's Jaws and White Shark and Charles Wilson's Extinct, "The Trench" grabs readers by the throat and pulls them deep into the unknown and primal terror of what is "down there". far beneath the ocean's surface.
With a cavernous mouth and rows of scalpel-sharp teeth, the pre-historic Megalodon shark is one of the most ferocious predators every to inhabit the Earth. Its appetite is ravenous. And for the first time, the captive twenty-ton creature has tasted human blood. Now, it wants more...
On the other side of the world, in the silent depths of the ocean, lies the Marianas Trench, where the Megalodon has spawned since the dawn of time. Paleo-biologist Jonas Taylor once dared to enter this perilous cavern. He alone faced a Megalodon shark and cut its heart out. Now, as the body count rises and the horror of a monster's attack grips the California coast, Jonas must begin the hunt again, and the return to the dark terror of the trench.
Format
Paperback
ISBN-13
9780786018048
Language
English
Manufacturer/Publisher
Pinnacle Kensington
Author(s)/editor(s)
Steve Alten
Release date
2013-04-30
Brand
Product Identifiers
Walmart Item #
UPC
SKU