TV Guide Spotlight - TV's Spookiest Halloween Episodes
TV Guide Spotlight - TV's Spookiest Halloween Episodes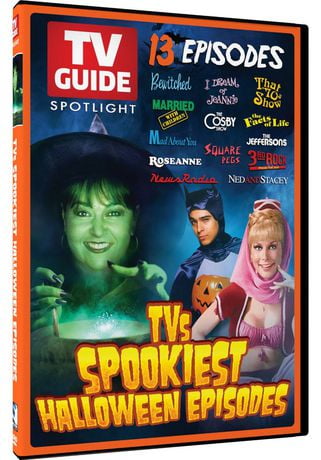 Discover the buried treasures of TV's Halloween hits! This ghoulishly good collection is packed with 13 eerie episodes from your favorite TV shows. These are the spooky specials that celebrated the magic and creativity of network TV. Filled with kooky characters and haunted hilarity this DVD collection is sure to be a boo-rific time!
oBewitched / A Safe and Sane Halloween
oI Dream of Jeannie / My Master, the Ghost Breaker
oThe Jeffersons / Now You See It, Now You Don't
oSquare Pegs / Halloween XII
oThe Facts of Life / The Halloween Show
oMarried…With Children / Take My Wife, Please
oRoseanne / Boo!
oThe Cosby Show / Halloween
oNewsradio / Halloween
oMad About You / The Unplanned Child
o3rd Rock From the Sun / Scaredy Dick
oNed and Stacey / Halloween Story
oThat '70s Show / Halloween
Cast
Roseanne Barr, Bill Cosby, Ed O'Neill, Elizabeth Montgomery, Barbara Eden, Phil Hartman, Ashton Kutcher, Mila Kunis, Debra Messing, Sarah Jessica Parker and more!
Number of discs
1
Release date
10/7/2014
Brand
Product Identifiers
Walmart Item #
SKU
UPC