WWE 2013 Wii
It takes blood, sweat, and tears to become the best in the world.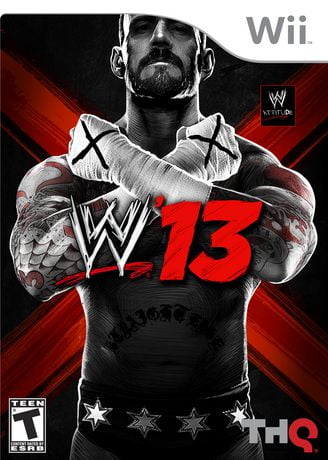 We're sorry! This product is not available. 
It takes blood, sweat, and tears to become the best in the world.  And if you want to rise to the top on your terms, you better bring the Attitude, and ignite a revolution. 
Mike Tyson Playable Superstar -  Pre-order now and for the first time ever in a WWE ring, play as "Iron" Mike Tyson!  Take control of The Baddest Man on the Planet and punch your way through your competition in WWE '13!
 
Last summer, one man revolutionized the sports entertainment industry. In a legendary moment at the end of Monday Night Raw, CM Punk shook up WWE and a hero was born.  Fifteen years ago, the legendary "Stone Cold" Steve Austin revolutionized entertainment, sparking a new generation of supporters with his relentless Attitude.  Now, a new crusade is upon us, and it doesn't start with an iconic WWE Superstar on television, online, or at a live event. WWE '13 is imminent, and it's time to live the revolution. 
 
THQ's flagship WWE videogame franchise returns to provide the most authentic, seamless and passionate experience to date, presented with a grittier attitude. WWE '13 will transform WWE gameplay through the introduction of WWE Live™, completely changing the videogame's audio and presentation elements. Predator Technology™ returns to further implement critical gameplay improvements, while fan favorites in WWE Universe Mode and the franchise's renowned Creation Suite are poised to offer the utmost in player freedom. Furthermore, WWE '13 will introduce a groundbreaking, single-player campaign based on the highly influential Attitude Era. Complete with a robust roster – the largest to date in the franchise – along with a host of additional features, WWE '13 is ready to live a revolution all its own.
WWE Live™ – Experience the atmosphere, spectacle and fervor of a WWE live event through attention-grabbing Spectacular Moments, including ring breaks and barricade crashes, along with a brand new audio system designed to produce the most authentic and vibrant commentary, sound effects and crowd participation levels ever experienced in a WWE videogame
 
Relive the attitude era  – You have heard the legendary stories and witnessed the history. Now,  for the first time, return to an unparalleled and groundbreaking era in WWE history – a time of pure raucousness, grandiose personalities and colossal revolution – through a franchise-first single player campaign focused on eight purveyors of attitude during the famed "Monday Night Wars," including WWE Hall of Famer "Stone Cold" Steve Austin
 
WWE universe 3.0 – Control the virtual WWE experience like never before in the franchise's popular career-style mode, as individual decisions throughout gameplay will dynamically introduce matches, alliances, rivalries and unpredictable moments along the path toward becoming a WWE champion
 
Predator Technology 2.0 – Driven by new animations, transitions and modified controls, Predator Technology returns to deliver intelligent, fluid and engaging WWE action, resulting in a smoother gameplay experience than its franchise predecessors
 
Create and share your WWE – Utilize the franchise's industry-defining Creation Suite to develop and customize Superstars, arenas, entrances, finishing moves, storylines, and more. Go online and upload your creations to share them with the WWE Universe and download creations from others to add to your own experience
 
Distinguished roster – Compete with a vast array of WWE Superstars and Attitude Era luminaries from the largest roster in franchise history, including cover Superstar CM Punk, "Stone Cold" Steve Austin, Sheamus, Undertaker, Mankind, Chris Jericho, Big Show and Mark Henry
 
Surprises in store – Live the Revolution through future announcements, including additional game features, a comprehensive roster reveal, downloadable content and big surprises
 
Studio
THQ
Genre
Sports
ESRB rating
T (Teen 13+)
Platform
Nintendo Wii
Shipping Product Length
5.40 IN
Shipping Product Width
0.60 IN
Shipping Product Height
7.50 IN
Shipping Product Weight
1.00 LB
Brand
Product Identifiers
Walmart Item #
UPC
Model #
MCN
Group #
SKU