1.5 Inch Dia Silent Design TPR Rubber Wheel Rigid Top Plate Fixed Caster 12pcs
1. 1.5 Inch TPE Wheel, Silent Design, Flexible and Durable.
2. Feature silver tone metal rectangle top plates,Gray high-quality TPE wheel.
3. Fixed type, flat top plate, move flexible.Provide low-noise operation and rolling resistance, roll quietly and smoothly.
4. Used widely for the furniture, hand trolley, shopping cart, appliances equipments and kinds of industrial equipments.

Specification:
Product Name: Fixed Caster Wheel
Package Content: 12pcs x Fixed Caster Wheel
Main Color: Silver Tone, Gray
Material: Metal, TPR
Weight: 667g
Overall Size: 58 x 28 x 42mm/2.3 Inch x 1.1 Inch x 1.65 Inch (L*W*H)
Wheel Size: 38 x 18mm/1.5 Inch x  0.7 Inch (D*T)
Mounting Hole Distance: 46mm/1.8 Inch 
Mounting Hole Dia.: 5mm/0.2 Inch 
Plate Size: 58 x 28mm/2.3 Inch  x 1.1 Inch (L*W)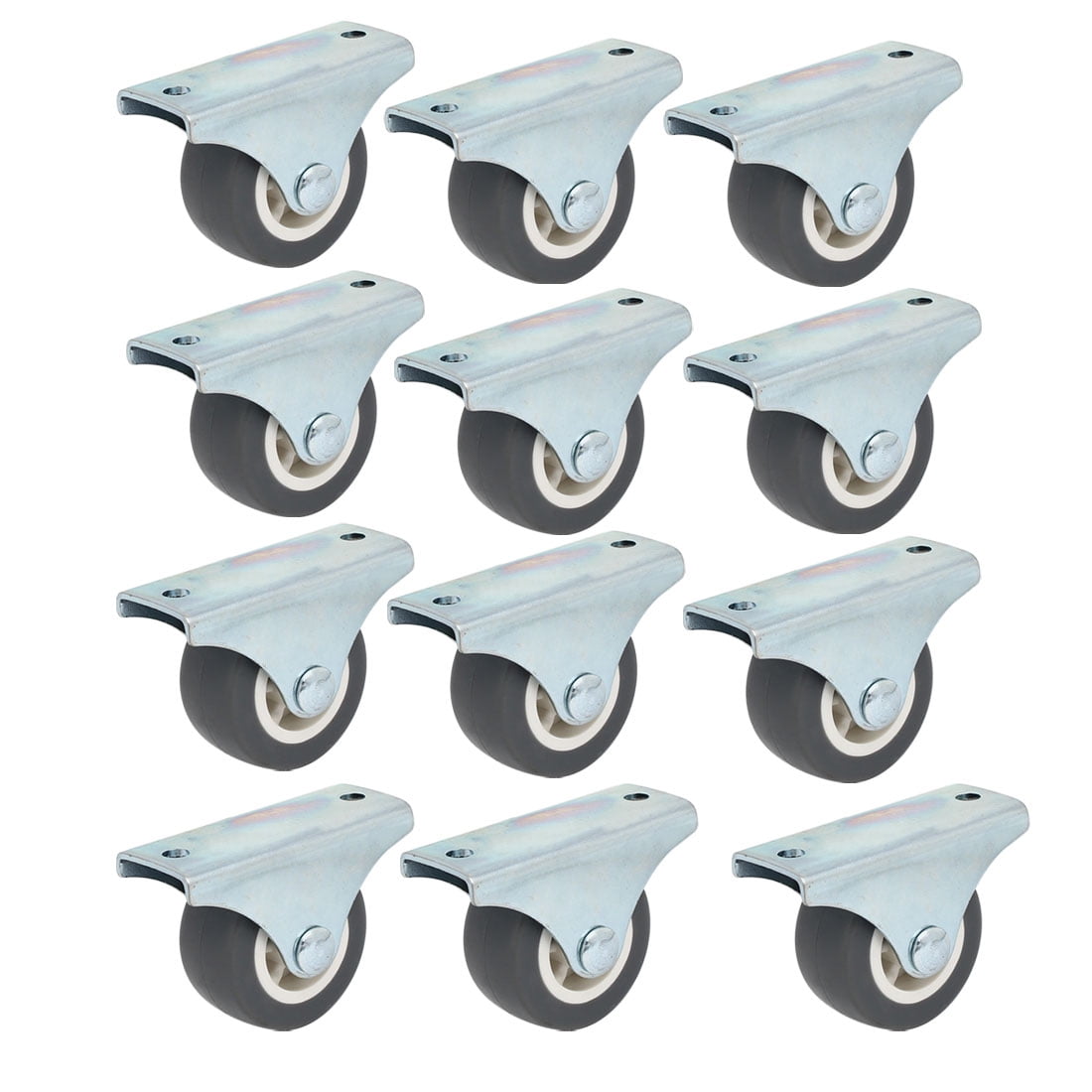 We're sorry! This product is not available. 
1. 1.5 Inch TPE Wheel, Silent Design, Flexible and Durable.
2. Feature silver tone metal rectangle top plates,Gray high-quality TPE wheel.
3. Fixed type, flat top plate, move flexible.Provide low-noise operation and rolling resistance, roll quietly and smoothly.
4. Used widely for the furniture, hand trolley, shopping cart, appliances equipments and kinds of industrial equipments.
Specification:
Product Name: Fixed Caster Wheel
Package Content: 12pcs x Fixed Caster Wheel
Main Color: Silver Tone, Gray
Material: Metal, TPR
Weight: 667g
Overall Size: 58 x 28 x 42mm/2.3 Inch x 1.1 Inch x 1.65 Inch (L*W*H)
Wheel Size: 38 x 18mm/1.5 Inch x  0.7 Inch (D*T)
Mounting Hole Distance: 46mm/1.8 Inch 
Mounting Hole Dia.: 5mm/0.2 Inch 
Plate Size: 58 x 28mm/2.3 Inch  x 1.1 Inch (L*W)
Feature silver tone metal rectangle top plates,Gray high-quality TPE wheel.
Fixed type, flat top plate, move flexible.Provide low-noise operation and rolling resistance, roll quietly and smoothly.
Used widely for the furniture, hand trolley, shopping cart, appliances equipments and kinds of industrial equipments.
Mounting Hole Dia.: 5mm/0.2"; Plate Size: 58 x 28mm/2.3" x 1.1"(L*W)
Brand
Product Identifiers
Model #
SKU
UPC