10 Piece Ultimate Lens Package For the SAMSUNG HMX-S10 Includes .43x High Definition II Wide Angle Macro Fisheye Lens + 2.2x HD AF Telephoto Lens + Pro 5 Piece Filter Kit + $50 Photo Gift Card!
52MM Opteka .43x High Definition II Wide Angle Panoramic Macro Fish eye Lens for Digital Cameras
52mm 0.43X Professional Super Wide Angle Lens
High Definition HD2 Lens
Front filter thread: 67mm
8 Element Lens
180Deg Degree Capability
Professional High Speed Auto Focus
Full Panoramic Capability
High Quality Crystal Optics
AF Infrared Compatible
High Resolution Precision Optics, Day or Night
Great for Every Type of Photographic Situation

52MM Opteka 2.2x High Definition II Telephoto Lens for Digital Cameras
2.2x High Definition II Telephoto Lens
High-index / low-dispersion optical glass
Digital Multi-Coated
Titanium anodized finish
High speed auto-focus / Infrared compatible
Maximize day and night shots by providing maximum light and image transmission
Built-in macro lens for extreme close-up shots

52mm Opteka High Definition II Professional 5 Piece Filter Kit (UV, CPL, FL, ND4 and 10x Macro Lens)
UV Filter
Polarizing Filter
Fluorescent Filter
Neutral Density ND4 Filter
10X Macro Filter
medical use. Made with high definition optical glass that provides unbelievable detail.
$50 for Online Digital Prints
Opteka Digital Camera / Camcorder Lens Cleaning Kit, Tabletop Tripod, & LCD Screen Protectors
47st.Photo Microfiber Deluxe Cleaning ClothIncludes 46MM-52MM Ring Adapter
By Opteka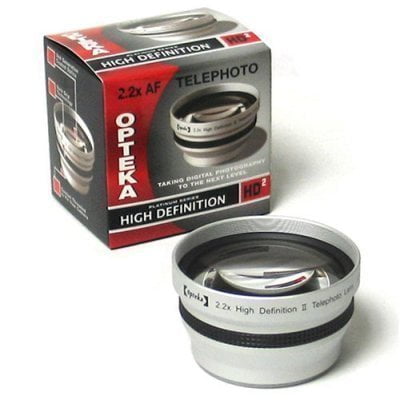 We're sorry! This product is not available. 
52MM Opteka .43x High Definition II Wide Angle Panoramic Macro Fish eye Lens for Digital Cameras
52mm 0.43X Professional Super Wide Angle Lens
High Definition HD2 Lens
Front filter thread: 67mm
8 Element Lens
180Deg Degree Capability
Professional High Speed Auto Focus
Full Panoramic Capability
High Quality Crystal Optics
AF Infrared Compatible
High Resolution Precision Optics, Day or Night
Great for Every Type of Photographic Situation
52MM Opteka 2.2x High Definition II Telephoto Lens for Digital Cameras
2.2x High Definition II Telephoto Lens
High-index / low-dispersion optical glass
Digital Multi-Coated
Titanium anodized finish
High speed auto-focus / Infrared compatible
Maximize day and night shots by providing maximum light and image transmission
Built-in macro lens for extreme close-up shots
52mm Opteka High Definition II Professional 5 Piece Filter Kit (UV, CPL, FL, ND4 and 10x Macro Lens)
UV Filter
Polarizing Filter
Fluorescent Filter
Neutral Density ND4 Filter
10X Macro Filter
medical use. Made with high definition optical glass that provides unbelievable detail.
$50 for Online Digital Prints
Opteka Digital Camera / Camcorder Lens Cleaning Kit, Tabletop Tripod, & LCD Screen Protectors
47st.Photo Microfiber Deluxe Cleaning ClothIncludes 46MM-52MM Ring Adapter
Brand
Product Identifiers
Model #
SKU
UPC