2" Printed Faux Wood - Oak 18 W x 72 H to 43 W x 72 H
More Sizes Available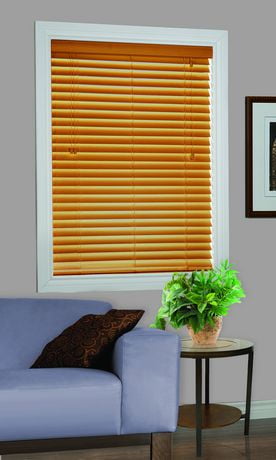 We're sorry! This product is not available. 
2'' PRINTED FAUX WOOD Horizontal blinds are made with premium PVC Slats and come with standard controls. Slats resist fading, warping and cracking, even in the humid conditions. The notched slats block out the light offering total privacy and can be used in any room of the house.
Dimensions range from 18 W x 72 H to 43 W x 72 H with 1" Width intervals. Dimensions are in inches.
Size
40 x 72
Brand
Product Identifiers
Walmart Item #
Model #
SKU
UPC
Size
32 x 72
Brand
Product Identifiers
Walmart Item #
Model #
SKU
UPC
Size
39 x 72
Brand
Product Identifiers
Walmart Item #
Model #
SKU
UPC
Size
42 x 72
Brand
Product Identifiers
Walmart Item #
Model #
SKU
UPC
Size
36 x 72
Brand
Product Identifiers
Walmart Item #
Model #
SKU
UPC
Size
38 x 72
Brand
Product Identifiers
Walmart Item #
Model #
SKU
UPC
Size
20 x 72
Brand
Product Identifiers
Walmart Item #
Model #
SKU
UPC
Size
30 x 72
Brand
Product Identifiers
Walmart Item #
Model #
SKU
UPC
Size
25 x 72
Brand
Product Identifiers
Walmart Item #
Model #
SKU
UPC
Size
33 x 72
Brand
Product Identifiers
Walmart Item #
Model #
SKU
UPC
Size
35 x 72
Brand
Product Identifiers
Walmart Item #
Model #
SKU
UPC
Size
31 x 72
Brand
Product Identifiers
Walmart Item #
Model #
SKU
UPC
Size
27 x 72
Brand
Product Identifiers
Walmart Item #
Model #
SKU
UPC
Size
37 x 72
Brand
Product Identifiers
Walmart Item #
Model #
SKU
UPC
Size
22x72
Brand
Product Identifiers
Walmart Item #
Model #
SKU
UPC
Size
34 x 72
Brand
Product Identifiers
Walmart Item #
Model #
SKU
UPC
Size
29 x 72
Brand
Product Identifiers
Walmart Item #
Model #
SKU
UPC
Size
26 x 72
Brand
Product Identifiers
Walmart Item #
Model #
SKU
UPC
Size
23 x 72
Brand
Product Identifiers
Walmart Item #
Model #
SKU
UPC
Size
41 x 72
Brand
Product Identifiers
Walmart Item #
Model #
SKU
UPC
Size
18 x 72
Brand
Product Identifiers
Walmart Item #
Model #
SKU
UPC
Size
43 x 72
Brand
Product Identifiers
Walmart Item #
Model #
SKU
UPC
Size
19 x 72
Brand
Product Identifiers
Walmart Item #
Model #
SKU
UPC
Size
28x72
Brand
Product Identifiers
Walmart Item #
Model #
SKU
UPC
Size
24 x 72
Brand
Product Identifiers
Walmart Item #
Model #
SKU
UPC
Size
21 x 72
Brand
Product Identifiers
Walmart Item #
Model #
SKU
UPC