200 Pcs 3/32" x 35/64" Fasteners Oval Head Semi Tubular Rivets Silver Tone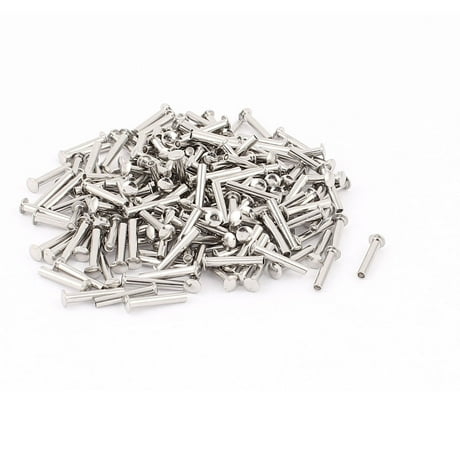 We're sorry! This product is not available. 
Descriptions:
Semi-tubular and tubular rivets are excellent fasteners to quickly and inexpensively join work-piece materials together. The tubular portion of the rivet may be fastened to a tight or loose (hinged assemblies) fit depending on the application. Riveted work-pieces are most often joined together by impacting or compressing the tubular end of the rivet with a crimping die.?The length of the rivet shank must be long enough to pass through work-piece with enough shank length left over for clinching process. The tightness of the clinched joint is determined by the amount of force applied to the clinched end of the rivet and can easily be adjusted.
Specifications:
Product Name: Semi-Tubular Rivet
Material: Iron(Nickel Plated)
Shank Diameter(D): 2.5mm(3/32 inch)
Length(L): 14mm(35/64 inch)
Hole Diameter(B): 1.6mm(1/16 inch)
Hole Depth(C): 2.7mm(7/64 inch)
Head Diameter(A): 4.2mm(11/64 inch)
Head Thickness(H): 1mm(3/64 inch)
Color: Silver Tone
Net Weight: 112g?
Package Content:
200pcs(+/-2%) x Semi-Tubular Rivet
Tubular-hole rivets often used as pierce and clinch materials.
Can be used to fasten similar or different materials of multiple work-pieces.
Long length rivets can be applied without buckling or bending the rivet shank.
Rivets can also be used with a rivet cap to improve appearance of clinched end.
Brand
Product Identifiers
Model #
SKU
UPC