25 Piece Advanced Lens Package For The Canon EOS 7D 50D 5D 60D 70D T1I, T3, T4I, T3I, T5I, T5 SL1 650D, 15-85mm 18-200mm 28-135mm (EF 35mm f/1.4L, EF 85mm f/1.2L II, EF 135mm f/2L) Includes 72MM 0.43X
By Opteka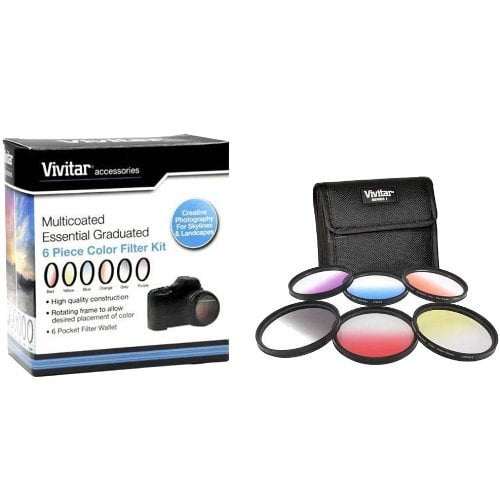 We're sorry! This product is not available. 
72MM 0.43x High Definition II Wide Angle Panoramic Macro Fisheye Lens for Digital Cameras
180Deg Degree CapabilityProfessional High Speed Auto FocusFull Panoramic CapabilityAF Infrared CompatibleHigh Resolution Precision Optics, Day or Night
72MM Opteka 2.2x High Definition II Telephoto Lens for Digital Cameras
High-index / low-dispersion optical glass
Digital Multi-Coated
High speed auto-focus / Infrared compatible
Maximize day and night shots by providing maximum light and image transmission
Built-in macro lens for extreme close-up shots
72MM Opteka Close-Up Set (+1, +2, and +4) with 10x Macro Lens
72MM High Definition II Professional 3 Piece Filter Kit (UV, CPL, FLD)
UV Filter
Circular Polarizing Filter
Fluorescent Filter
72MM Multi-Colored Graduated & Rotating 6 Piece Filter set
Graduated color filters provide a gradual color transition for a smooth blending effect. Give your landscape and skin texture a more colorful touch. Perfect for changing the mood of a picture.
RED FILTER
YELLOW FILTER
BLUE FILTER
ORANGE FILTER
GRAY FILTER
PURPLE FILTER
6 POCKET FILTER WALLET
72 MM Flower / Petal Shaped Camera Lens Hood Professional lens cleaning pen
Professional Air Blower Cleaner for DSLR Camera $50 for Online Digital Prints
Universal Lens Cap Keeper Holder
Opteka Digital Camera / Camcorder Lens Cleaning Kit, Tabletop Tripod, & LCD Screen Protectors
47st.Photo Microfiber Deluxe Cleaning Cloth
Brand
Product Identifiers
Model #
SKU
UPC