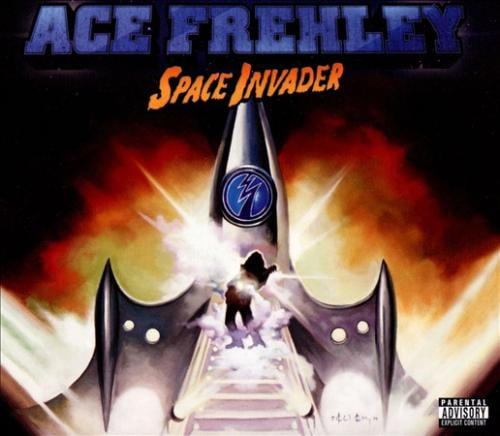 We're sorry! This product is not available. 
Ace Frehley Space Invader [Deluxe] [PA] [Digipak] CD. Audio Mixer: Warren Huart.
Recording information: Ace In The Hole Studios West, San Diego, CA; Spitfire Studio, Los Angeles, CA; The Creation Lab, Turlock, CA; The Greene Room Studios, Los Angeles, CA; The Hideout, Las Vegas, NV.
Photographer: Jayme Thornton.
Coming off a year where Kiss' induction into the Rock N Roll Hall of Fame came off as the ungrateful Gene and Paul show, original member and now solo outsider Ace Frehley had something to prove, at least to the loyal fans (aka the Kiss Army). As such, Space Invader is the required retro return, one that's well-executed, from its '80s video game title to its mix of thick, singalong rockers and laid-back guitar show pieces. Of the latter, "Past the Milky Way" ("I sail past the Milky Way/Just to hold you in my arms") is the kind of midtempo, Blue Öyster Cult-like stuff that supports comic book lyrics like "Let's rendezvous on Mars" so well, while the closing "Starship" is a six-stringer's delight, jangling along with Ace in acoustic mode and reminding fans that his constant referencing of the Beatles sometimes comes through in his music. These mellow moods round out the album well, and yet the meat and potatoes are the space truckin', gutsy rockers like "Gimme a Feelin," a lusty blast of bravado where cliches meet those strange, clumsy, and lovable Ace-isms like "And baby, you got what it takes/To really jangle my brain." "What Every Girl Wants" is Destroyer-era magic from a man who was there, then "Inside the Vortex" reminds listeners that Kiss would sometimes stretch into the world of prog rock whenever Ace channeled his inner Asimov. Biggest sci-fi thrill of them all would be the title-track opener, which is just too over-the-top and laser-powered to sell to newcomers, and it's worth mentioning that the cover of Steve Miller's "The Joker" is delivered with charm and proper lightheartedness. No kowtowing to the current sound or other embarrassments make this a fan album in the best sense, and on top of it all, Ace's guitar playing is inspired while his voice remains a Buck Dharma-like mix of warm and weathered. For longtime fans, Space Invader is a rocket well worth riding. ~ David Jeffries
Product Identifiers
Model #
SKU
UPC
domainType
hideSlap