Carole King Pearls: Songs of Goffin and King CD
By Generic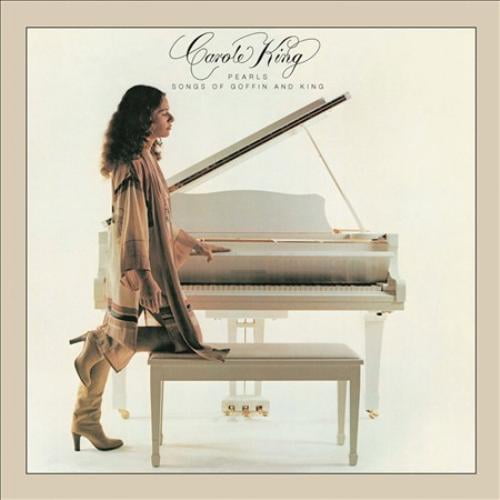 We're sorry! This product is not available. 
Carole King Pearls: Songs of Goffin and King CD. Personnel: Eric Johnson (guitar); Mark Maniscalco (banjo); Richard Hardy (flute, saxophone, alto saxophone); Tomás Ramírez (tenor saxophone); Bobby Meyer, Raymond Crisara (trumpet); Michael Munday (trombone); Donald Knaub (bass trombone); Reese Wynans (keyboards); Steve Meador (drums); Miguel Rivera (congas, percussion).
Recording information: Pecan street Studios, Austin, TX (01/1980).
Photographers: Sherry Goffin; Harry Boyd.
Dan Heilman wrote "On Pearls King reprises the early-'60s pop gems she wrote with Gerry Goffin, with fine results." There is just a fraction of their phenomenal work documented here, and the 16 and a half minutes per side on the vinyl LP is hardly enough time to give the listener a proper perspective. "Dancin with Tears in My Eyes" opens the collection, a pleasant new addition to their repertoire, but next to "The Loco-Motion," "One Fine Day," "Chains," and "Snow Queen," its purpose is more to bring the album full circle than to try to compete with these classics. "One Fine Day," the song the Chiffons brought Top Five, was the hit, going Top 15 from this set 17 years later. Make no mistake about it, this is possibly Carole King's most important work since Tapestry, and why a similar album didn't follow Tapestry or its follow-up, Music, was a marketing blunder and a mystery. Missing here is Lou Adler's production, though King and her co-producer, Mark Hallman, are hardly inefficient. It's just that some songs get more attention than others. The reworking of the Freddie Scott-Bobby Vee-Donny Osmond hit "Hey Girl" is breathtaking. Here King is backed by lush production and a bluesy vocal that surpasses anything else on this record, as well as much of what was on the charts at this time. Without changing gender, King's performance is a showstopper. Her friend Neil Sedaka employs the same technique when he puts "Where the Boys Are" in his live sets, and both singer/songwriters take their original compositions to new heights. "Chains," however, the song covered by both the Cookies and the Beatles, needed a bit more of what they gave to "Oh No, Not My Baby" -- a bigger sound. Pearls: Songs of Goffin and King is the set the artist's longtime fans craved when Tapestry made her more than a household name. On her Writer album, pre-Tapestry, she gave listeners "Up on the Roof"; with Music, the Tapestry follow-up, listeners got "Some Kind of Wonderful"; and on her pre-solo work with the City, the Lou Adler-produced Now That Everything's Been Said, there were three familiar tunes that are re-recorded for Pearls, those being the Blood, Sweat & Tears hit "That Old Sweet Roll (Hi-De-Ho)," "I Wasn't Born to Follow," which the Byrds covered, and "Snow Queen," which Blood, Sweat & Tears, the Tokens, and the Association all recorded. Both songwriters, Goffin with his excellent It Ain't Exactly Entertainment, and King with just about every album she made between Tapestry and Pearls, refused to capitalize on their earlier efforts. They, and their fans, are not the better for it. From 1962's "It Might as Well Rain Until September," King's first hit, to the Monkees' "Pleasant Valley Sunday," hearing a superstar sing her original songs that fans know and love is something very important. Her version of "Oh No, Not My Baby" is right up there with the classics by Rod Stewart and Maxine Brown, and at the risk of being redundant, it must be said again: this album deserves its place right next to Tapestry. ~ Joe Viglione
Brand
Product Identifiers
Model #
SKU
UPC