Eric Bibb/Danny Thompson (Double Bass)/Eric Bibb & North Country Far The Happiest Man in the World CD
By Generic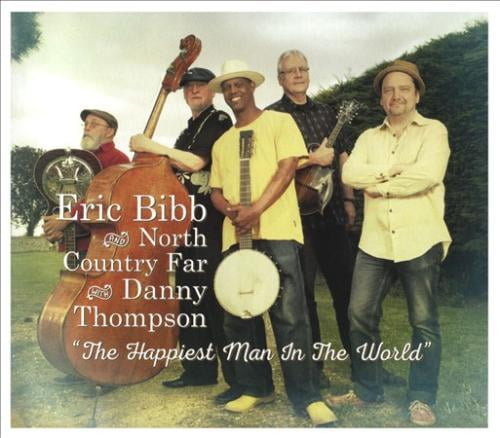 We're sorry! This product is not available. 
Eric Bibb/Danny Thompson (Double Bass)/Eric Bibb & North Country Far The Happiest Man in the World CD. Personnel: Eric Bibb (vocals, guitar, 6-string guitar, 12-string guitar, banjo); Olli Haavisto (dobro); Janne Haavisto (drums, percussion).
Audio Mixer: Janne Haavisto.
Liner Note Authors: Eric Bibb; Keith Richards.
Recording information: Dove Creek Studios, BC, Canada; Eastwing Studio, Järvenpää, Finland; Nyköping, Sweden; The Grange Studios, Norfolk, UK; Valley Cottage, New York.
Photographer: Patricia de Gorostarzu.
Journeyman singer/guitarist Eric Bibb has made a career out of inspired collaborations and displaying the kind of versatility that can only be learned from traveling the world with ears open. A New York bluesman with a classic folk pedigree -- his father was respected 1960s folksinger Leon Bibb -- Eric opted to base himself out of Europe, where he found a fan base eager to embrace American roots music. At one point, while living in Helsinki, Finland, he befriended brothers Janne (drums) and Olli Haavisto (Dobro, pedal steel), who then introduced him to Petri Hakala (mandolin). After collaborating on a number of projects together, this Finnish trio soon took on the name the North Country Far when backing up Bibb. For this pastoral and pleasantly laid-back set, Bibb also reached out to legendary British bassist Danny Thompson (Pentangle, Nick Drake, Tim Buckley), and the extended group met up at a rural U.K. studio near Norfolk called the Grange for a week of recording. An all-acoustic mixed bag of country blues, folk, and some high-grade picking, The Happiest Man in the World is brimming with warmth and comfort. A breezy back-porch feeling extends throughout its somewhat lengthy 15 tracks as Bibb and his crew tumble through playful cuts like "I'll Farm for You" and "Born to Be Your Man," a pair of tracks whose casual demeanor belies their expert musicianship. A good-natured tenderness underlies many of Bibb's characters, like the amiable couples in "Creole Café" and "On the Porch" and the upbeat dreamer in "King Size Bed." Where he really excels, though, is on some of the quieter, more introspective songs like "Prison of Time" and "Wish I Could Hold You Now," two beautiful cuts of dreamy melancholia that softly celebrate the richness of life. There are even a couple of fine instrumental pieces in "1912 Skiing Disaster" and the Irish tin whistle-aided "Blueberry Boy" that round out the collection. Lovingly played and written and certainly easy on the ears, The Happiest Man in the World is an apt title for this plate of musical comfort food from Bibb and his band. ~ Timothy Monger
Brand
Product Identifiers
Model #
SKU
UPC