Louis Prima Wild, Cool & Swingin CD
By Generic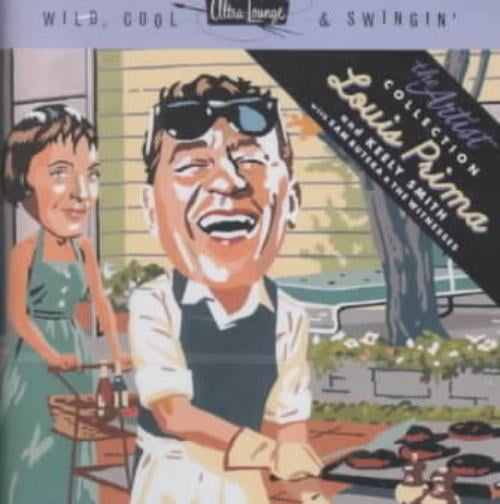 We're sorry! This product is not available. 
Louis Prima Wild, Cool & Swingin CD.
0. DISC 1:
1. That Old Black Magic
2. Five Months, Two Weeks, Two Days
3. Should I / I Can't Belive That You're In Love With Me
4. Closer to the Bone, The (The Sweeter Is the Meat)
5. Hey Boy! Hey Girl!
6. I'll Be Glad When You're Dead You Rascal You
7. Autumn Leaves
8. Music Goes 'Round and Around, The
9. Just One of Those Things
10. Felicia No Capecia
11. Oh Marie
12. Greenback Dollar Bill
13. When You're Smiling / The Sheik Of Araby
14. Scuba Diver
15. Three-Handed Woman
16. Lazy River
17. Embraceable You / I've Got It Bad And That Ain't Good
18. Pennies From Heaven
19. Lip, The
20. Robin Hood / Oh Babe!
21. Fee Fie Foo
22. For My Baby, (Nothing's Too Good)
0. DISC 2:
1. I've Got You Under My Skin
2. Jump, Jive, An' Wail
3. Angelina / Zooma Zooma
4. Moonglow
5. I've Got the World on a String
6. Love of My Life (O Sole Mio)
7. John Ping Pong - (previously unreleased)
8. Pump Song, The
9. Banana Split For My Baby
10. Too Marvelous For Words
11. Don't Take Your Love From Me
12. Buona Sera
13. Don't Worry About Me / I'm In The Mood For Love
14. There'll Be No Next Time
15. Shadrack
16. Basin Street Blues / When It's Sleepy Time Down South
17. You're Just in Love
18. Birth of the Blues, The
19. Them There Eyes / Honeysuckle Rose
20. Sing, Sing, Sing
21. For My Baby, (Nothing's Too Good) - (previously unreleased)
22. Just A Gigolo / I Ain't Got Nobody
Brand
Product Identifiers
Model #
SKU
UPC