Magic: the Gathering - Garruk the Slayer (001/001) - Oversize Promo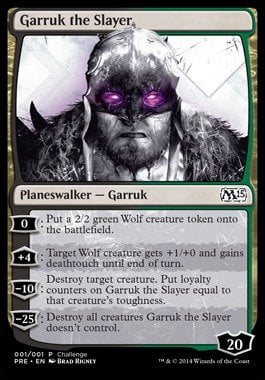 We're sorry! This product is not available. 
Magic: the Gathering is a collectible card game created by Richard Garfield. In Magic, you play the role of a planeswalker who fights other planeswalkers for glory, knowledge, and conquest. Your deck of cards represents all the weapons in your arsenal. It contains the spells you know and the creatures you can summon to fight for you.
Card Name: Garruk the Slayer
Color: Colorless
Card Type: Planeswalker - Garruk
Power/Toughness: /20
Card Number: 001/001
Artist: Brady Rigney
Card Text: 0: Put a 2/2 green Wolf creature token onto the battlefield. +4: Target Wolf creature gets +1/+0 and gains deathtouch until end of turn. -10: Destroy target creature. Put loyalty counters on Garruk the Slayer equal to that creature's toughness. -25: Destroy all creatures Garruk the Slayer doesn't control.
Brand
Product Identifiers
Model #
SKU
UPC