Magnaflow 48 State Converter 49644 Catalytic Converter Direct Fit OEM Grade OBDII Not For Sale Or Use In The State Of California
By MagnaFlow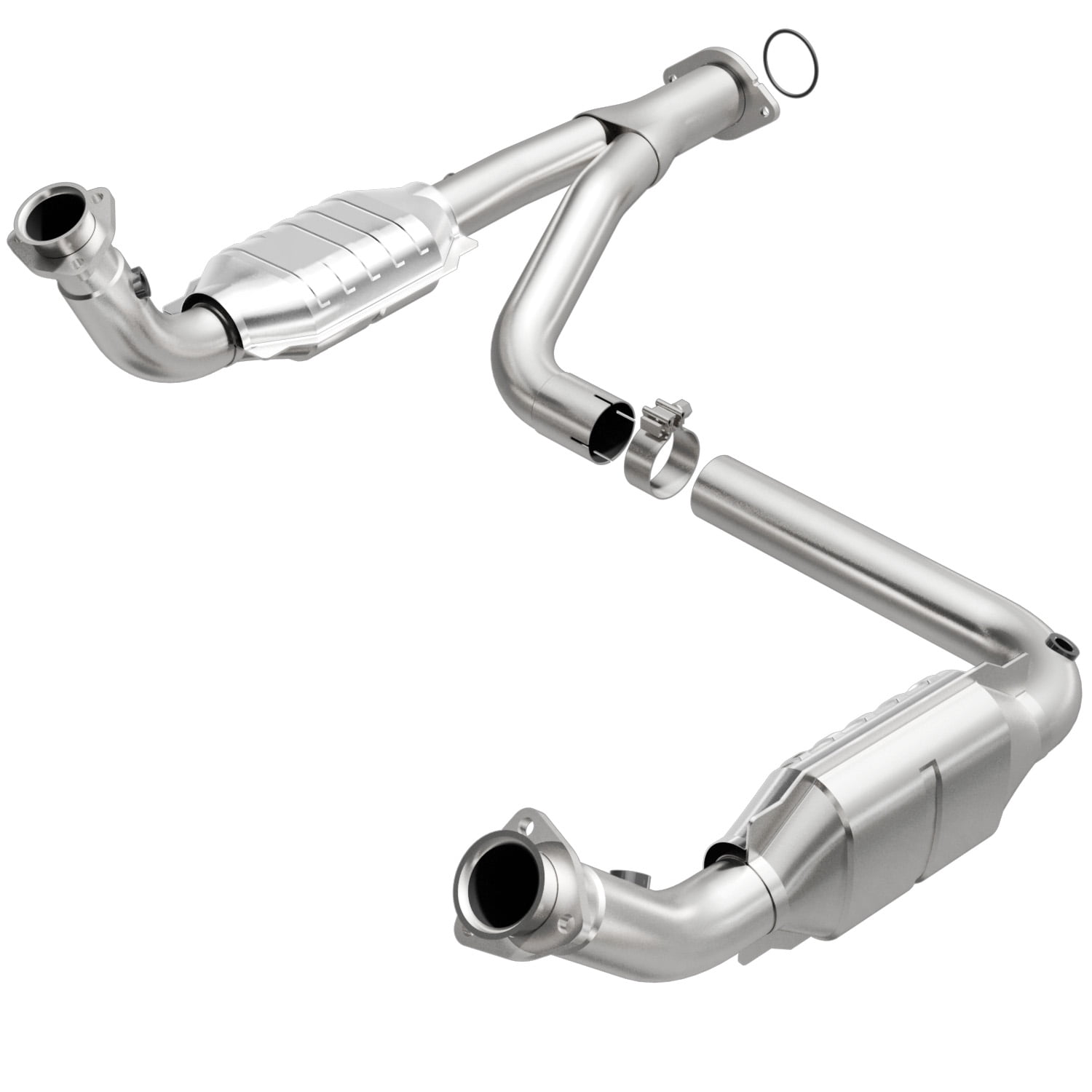 We're sorry! This product is not available. 
Magnaflow 48 State Converter 49644 Catalytic Converter Direct Fit OEM Grade OBDII Not For Sale Or Use In The State Of California
Compare MagnaFlow's catalytic converters with any other manufacturer and you'll see why MagnaFlow has become a leader in the manufacturing of exhaust components. Others may employ one or two of the following features, but only MagnaFlow puts them all together to create a catalytic converter that exceeds basic need and function. Our years of research and development have resulted in many unique features that are exclusive to MagnaFlow. We combine efficient manufacturing techniques and state-of-the-art industrial design to produce an end process and product that sets, rather than meets, the highest standards of product performance and efficiency in the industry.
Features:
MagnaFlow Converters Have A Ribbed Body That Minimizes Expansion & Distortion When The Converter Heats Up And MagnaFlow Converters Are Seam Welded Close To The Converter Body For A Strong, Tight Bond
MagnaFlow Converters Have A 1/2 Inch Lap-Joint Where The Necks Meet The Body. The Neck Does Not Extend Into The Converter Body Where It Could Hamper Exhaust Flow
Separate Dies On Different Sized Inlets. We Don't Skimp By Putting Larger Neck Sizes On Smaller Bodies. This Would Reduce The Flow Of The Converter And Performance Of Our Product
MagnaFlow Uses A Monolithic Honeycomb Catalyst. The Ceramic Is Designed For Maximum Flow And Surface Area. The Coating Method Is Strictly Controlled To Maintain Exact Specifications
MagnaFlow Uses A Heavier Gauge Stainless Steel, Tip To Tip. Others Use Mixed Weights And Materials
MagnaFlow Uses An Aluminized Or Stainless OEM-Style Ribbed Heat Shield That Creates A Rigid Wall Of Protection Against Heat And Adds To The Structural Stability Of The Converter
MagnaFlow Installs A Factory Capped, 90 Degree Air Tube On "With Air" Converters. This Saves Time During Installation
Limited 5 Year Or 50,000 Mile Warranty
Specifications:

California Legal: No
Case Material: Stainless Steel
Inlet Size: 3.0 To 3.9 Inch
Inlet Attachment: Welded Flange
Outlet Size: 3.0 To 3.99 Inch
Outlet Attachment: Stock Flange/ Slip Fit
Shape: Oval
Body Length (IN): 10 To 12.9 Inch
Overall Length (IN): 50 To 59.9 Inch
Substrate Material: Ceramic
Heat Shield: Yes
Air Tube: No

This product is designed to fit the following vehicles:
2007 - 2009 Chevrolet Silverado 2500 HD
2007 - 2009 GMC Sierra 2500 HD
Brand
Product Identifiers
Model #
SKU
UPC