Moroso Performance 20230 Oil Pan Street Strip
By Moroso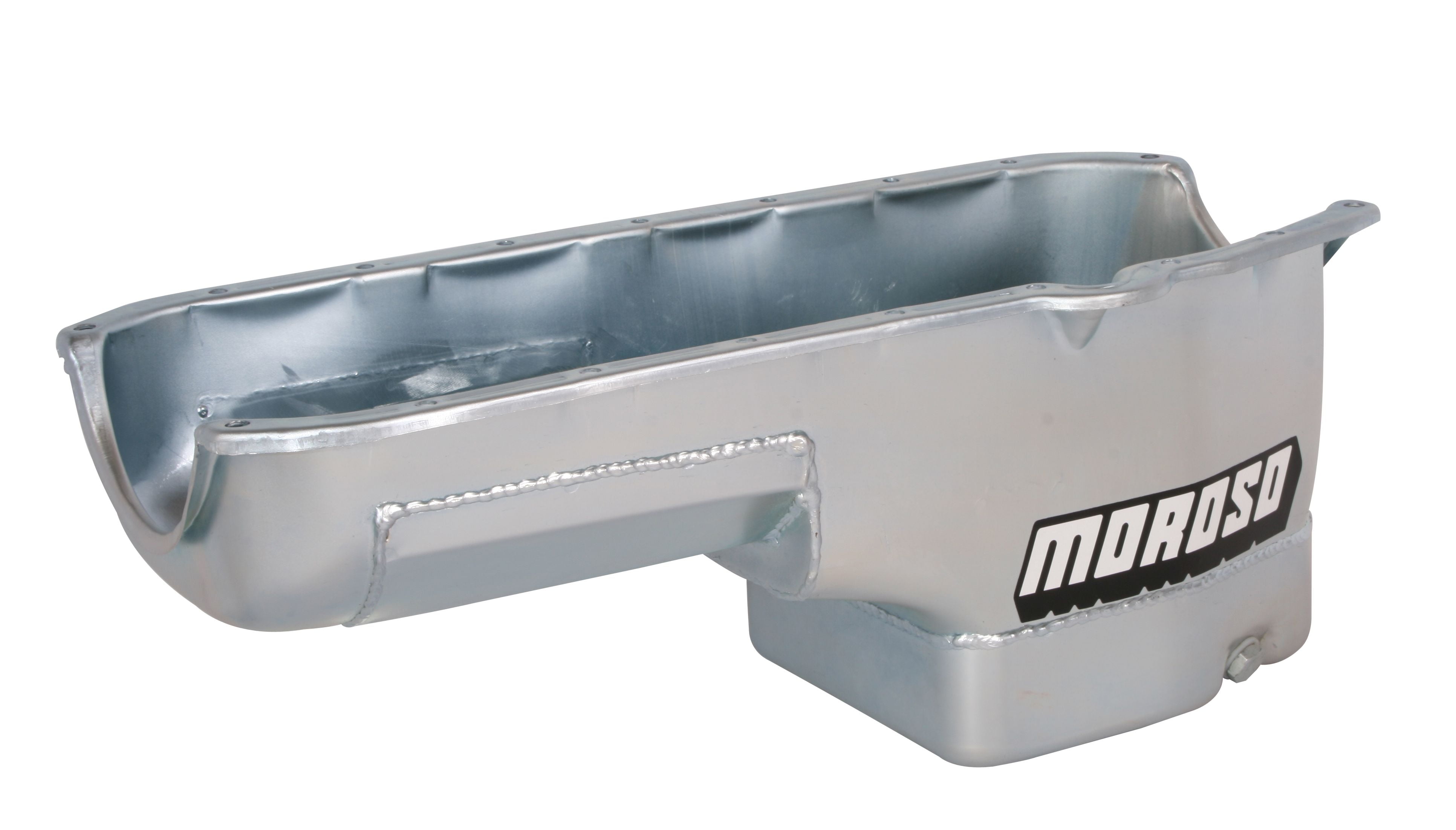 We're sorry! This product is not available. 
Moroso Performance 20230 Oil Pan Street Strip For Use With 1980 And Earlier Small Block Chevy Engines/ Up To 3.48 Inch Stroke With Steel Rods; Street/ Strip; 6 Quarts; Without Windage Tray; Left Side Dipstick; Wet Sump; 8-1/4 Inch Sump Depth; With Baffle; Zinc Plated; Steel

Moroso performance products was the first company to manufacture racing oil pans with deep and kicked out sumps, thereby solving the lubrication problems of countless racers. While different types of automated machinery is used to make the individual components, Moroso oil pans are precision welded, one at a time, by skilled craftsmen who take pride in their work. All Moroso oil pans and oiling components are engineered to be fully compatible with one another. This allows engine builders to select the best combination of equipment to suit their particular needs. It also eliminates the problems that often occur when using components from different manufacturers. Moroso offers a wide variety of oiling system accessories including Oil Pumps, Pickups, Windage Trays And Screens, Crankshaft Scrapers, Tanks, Breathers, Fittings, Filters, Drive Kits, Oil Pre-heaters, And Accumulators. Each is designed, developed and tested to work together as an integrated system with our oil pans. And each is built with the quality that you've come to expect from Moroso.


Features:
Accepts Up To 3.48 Inch Stroke With Steel Rods
Trap Door Baffle For Improved Oil Control
Reduces Oil Temperature
Compatible With Most Starter/Flywheel Combinations
Limited 90 Day Warranty
Specifications:

Recommended Use: Street/ Strip
Finish: Zinc Plated
Color: Silver
Material: Steel
Capacity: 6 Quart
Depth (IN): 8-1/4 Inch
Sump Position: Rear
Sump Style: Wet
Baffled: Yes
Dipstick Provision: Yes
Dipstick Location: Driver Side
Includes Pickup: No
Includes Windage Tray: No

This product is designed to fit the following vehicles:
1969 - 1974 Avanti II
1977 - 1979 Buick Century
1978 - 1978 Buick LeSabre
1977 - 1979 Buick Regal
1977 - 1979 Buick Skylark
1969 - 1974 Checker Aerobus
1969 - 1970 Checker Deluxe
1969 - 1974 Checker Marathon
1969 - 1974 Checker Taxicab
1959 - 1959 Chevrolet 3100
1959 - 1959 Chevrolet 3B
1959 - 1959 Chevrolet 3C
1959 - 1959 Chevrolet 3D
1959 - 1959 Chevrolet 3E
1959 - 1959 Chevrolet 3F
1959 - 1959 Chevrolet 3G
1955 - 1975 Chevrolet Bel Air
1958 - 1972 Chevrolet Biscayne
1969 - 1974 Chevrolet Blazer
1959 - 1961 Chevrolet Brookwood
1969 - 1972 Chevrolet Brookwood
Brand
Product Identifiers
Model #
SKU
UPC