Paradigm Health and Wellness 5211 Ironman Fitness IFT1000 Infrared Therapy Inversion Table
The most advanced back soothing innovation: Inversion relaxation combined with Infrared Heat Therapy. The IronMan Infrared Heat Therapy inversion table is built with a durable tubular steel frame with a scratch resistant powder coated nish. The backrest is built-in with Carbon Fiber F.I.R. (Far Infrared Rays) heating element to help soothe your back as you are inverting. Extra long safety handles provide easy return to the upright position and vinyl safety covers are added for safety. The ergonomically molded ankle holders provide comfort and security. When not in use, the Inversion Table can be folded. Foam covered, extra long safety handles. 1'' thick Infrared Heat Therapy Backrest provides for extra comfort and heat. Ergonomically molded ankle cushions hold ankles securely and comfortably. Infrared Heat Therapy Inversion Table will invert up to 90 degrees. Weight capacity: Supports up to 300 lbs. 3 adjustments for different starting inversion angles. Folds for storage. Height adjustment up to 6'6''. Easily adjustable safety tether strap controls the maximum angle of inversion. Scratch resistant powder coated finish. Safety vinyl side covers with mesh pocket for remote control, glasses, etc. Carbon Fiber FIR Heater Features:. This inversion table incorporates the most advanced Far Infrared Ray (F.I.R.) heat therapy technology. Ultra-thin built-in F.I.R. carbon fiber heating element provides a natural and gentle heat to sooth your back and provide temporary relief from minor muscle spasms. Heats up within 10-15 minutes. LED control functions and reads out: Time( 0-60 minutes) and temperature settings 90-140 degree F, on-off switch. Remote control included. ETL/CETL certified. Delivers health and therapeutic benefits of Far Infrared Heat Therapy to your back. Penetrates deeper into human body without the skin discomfort of traditional heating pads, hot. towels, and some pain relief gels/creams. Unlike traditional heating elements, it has no unhealthy electromagnetic concerns. It helps increase blood circulation, bodily energy, aids in decreases stress levels. It can also benefit people with injuries. Its energy and heat helps relax the muscles, expediting the healing of sprains and strains. The increases of blood flow helps aching and injured muscles recover faster than normal average time because the stronger blood flow. Product Set Up Dimensions. 49''L x 25''W x 62''H , 124L x 64W x 165H cm. Product Folded Dimensions. 80''H x 25''W x 17''D , 203H x 64W x 43D cm. Product Weight. 50 lbs , 23 kg. Carton Dimensions. 53''L x 28''W x 5.5''H , 135L x 71W x 14H cm. Carton Weight. 66 lbs , 27 kg. Dimensions: 49''L x 25''W x 62''H , 124L x 64W x 165H cm- SKU: PRHW011
By Paradigm Health and Wellness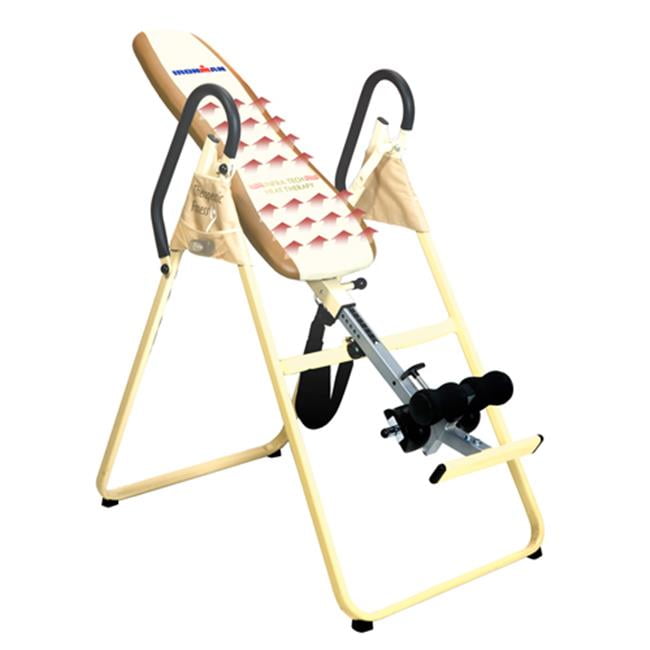 We're sorry! This product is not available. 
The most advanced back soothing innovation: Inversion relaxation combined with Infrared Heat Therapy. The IronMan Infrared Heat Therapy inversion table is built with a durable tubular steel frame with a scratch resistant powder coated nish. The backrest is built-in with Carbon Fiber F.I.R. (Far Infrared Rays) heating element to help soothe your back as you are inverting. Extra long safety handles provide easy return to the upright position and vinyl safety covers are added for safety. The ergonomically molded ankle holders provide comfort and security. When not in use, the Inversion Table can be folded. Foam covered, extra long safety handles. 1'' thick Infrared Heat Therapy Backrest provides for extra comfort and heat. Ergonomically molded ankle cushions hold ankles securely and comfortably. Infrared Heat Therapy Inversion Table will invert up to 90 degrees. Weight capacity: Supports up to 300 lbs. 3 adjustments for different starting inversion angles. Folds for storage. Height adjustment up to 6'6''. Easily adjustable safety tether strap controls the maximum angle of inversion. Scratch resistant powder coated finish. Safety vinyl side covers with mesh pocket for remote control, glasses, etc. Carbon Fiber FIR Heater Features:. This inversion table incorporates the most advanced Far Infrared Ray (F.I.R.) heat therapy technology. Ultra-thin built-in F.I.R. carbon fiber heating element provides a natural and gentle heat to sooth your back and provide temporary relief from minor muscle spasms. Heats up within 10-15 minutes. LED control functions and reads out: Time( 0-60 minutes) and temperature settings 90-140 degree F, on-off switch. Remote control included. ETL/CETL certified. Delivers health and therapeutic benefits of Far Infrared Heat Therapy to your back. Penetrates deeper into human body without the skin discomfort of traditional heating pads, hot. towels, and some pain relief gels/creams. Unlike traditional heating elements, it has no unhealthy electromagnetic concerns. It helps increase blood circulation, bodily energy, aids in decreases stress levels. It can also benefit people with injuries. Its energy and heat helps relax the muscles, expediting the healing of sprains and strains. The increases of blood flow helps aching and injured muscles recover faster than normal average time because the stronger blood flow. Product Set Up Dimensions. 49''L x 25''W x 62''H , 124L x 64W x 165H cm. Product Folded Dimensions. 80''H x 25''W x 17''D , 203H x 64W x 43D cm. Product Weight. 50 lbs , 23 kg. Carton Dimensions. 53''L x 28''W x 5.5''H , 135L x 71W x 14H cm. Carton Weight. 66 lbs , 27 kg. Dimensions: 49''L x 25''W x 62''H , 124L x 64W x 165H cm- SKU: PRHW011
Colour
Multicolor
Gender
Unisex
Brand
Paradigm Health and Wellness
Product of
Product Identifiers
Model #
SKU
UPC
*Product may be sourced from countries listed depending on availability.