Professional 3.7X Telephoto & 0.20X Fisheye Lens Package For The Canon Rebel T5i T4i T3i T3 T2i T1i XT XTi XSi SL1 700D 650D 600D 1100D 550D 500D 100D Includes Deluxe Accessory Kit
Opteka HD2 0.20X Professional Super AF Fisheye Lens
Nothing changes the way you see the world like High Definition II, and no company does High Definition II like Opteka. In the professional setting, Opteka's glass optics define High Definition. Change the way you view the world. Enjoy outstanding detail, enjoy enhanced clarity, enjoy Opteka.The new Opteka High Definition II .20x Wide Angle Fisheye Converter Lens increases the versatility of your existing lens to provide breathtaking ultra wide angle views. And it's so easy to use! Great for every type of photographic situation! Converts a 18-55mm into a 3.6-11mm Circular Lens

-Included - .20x Fisheye Lens, Lens Adapter, 52mm Adapter, 55mm Adapter, 58mm Adapter, Lens Caps, Lens Pouch
-An essential tool for extreme sports and dramatic action shooters
-High-index / low-dispersion optical glass, Fully multi-coated, every element
-Designed to maximize day and night shots by providing maximum light and image
-Made and designed in Japan, Brand new, Lifetime warranty

3.7X Extreme High Definition AF Telephoto Lens
Lens Attaches right on to your existing lens system by threading directly on to it filter threads just like a filter would, With this powerful lens you can gat a magnification of 3 time more than your existing system, constructed with; 4 elements in 4 groups (Fully Multi-Coated), High-Index Low-Dispersion Optical Glass, Anti-Reflection Coating and Steel Barrel Construction you can really make the most of your telephoto shootings.

Professional high definition lens reduces glass flare & ghosting caused by reflections.
Multi-Coated high quality glass
DESIGNED FOR: 52/58mm Digital & Video Cameras
$50 for Online Digital Prints
Opteka Digital Camera / Camcorder Lens Cleaning Kit, Tabletop Tripod, & LCD Screen Protectors
47st.Photo Microfiber Deluxe Cleaning Cloth
By Opteka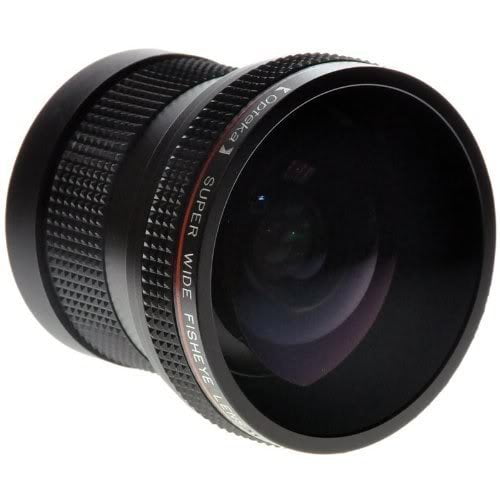 We're sorry! This product is not available. 
Opteka HD2 0.20X Professional Super AF Fisheye Lens
Nothing changes the way you see the world like High Definition II, and no company does High Definition II like Opteka. In the professional setting, Opteka's glass optics define High Definition. Change the way you view the world. Enjoy outstanding detail, enjoy enhanced clarity, enjoy Opteka.The new Opteka High Definition II .20x Wide Angle Fisheye Converter Lens increases the versatility of your existing lens to provide breathtaking ultra wide angle views. And it's so easy to use! Great for every type of photographic situation! Converts a 18-55mm into a 3.6-11mm Circular Lens
-Included - .20x Fisheye Lens, Lens Adapter, 52mm Adapter, 55mm Adapter, 58mm Adapter, Lens Caps, Lens Pouch
-An essential tool for extreme sports and dramatic action shooters
-High-index / low-dispersion optical glass, Fully multi-coated, every element
-Designed to maximize day and night shots by providing maximum light and image
-Made and designed in Japan, Brand new, Lifetime warranty
3.7X Extreme High Definition AF Telephoto Lens
Lens Attaches right on to your existing lens system by threading directly on to it filter threads just like a filter would, With this powerful lens you can gat a magnification of 3 time more than your existing system, constructed with; 4 elements in 4 groups (Fully Multi-Coated), High-Index Low-Dispersion Optical Glass, Anti-Reflection Coating and Steel Barrel Construction you can really make the most of your telephoto shootings.
Professional high definition lens reduces glass flare & ghosting caused by reflections.
Multi-Coated high quality glass
DESIGNED FOR: 52/58mm Digital & Video Cameras
$50 for Online Digital Prints Opteka Digital Camera / Camcorder Lens Cleaning Kit, Tabletop Tripod, & LCD Screen Protectors 47st.Photo Microfiber Deluxe Cleaning Cloth
Brand
Product Identifiers
Model #
SKU
UPC