Self-Adhesive Door Bottom Sweep White w 1.2-inch Black Brush 40-inch x 2.1-inch
1.Door brush is designed to seal the gap between the bottom of the door and the top of the threshold or floor surface.
2.All door bottom sweeps are supplied with black brush.
3.Designed with plastic bottom holder and PVC brush, anti-aging and durable.
4.Greatly reduce the infiltration of light and wind, control the penetration of dust and fumes.
5.Suitable for doors only.

Specification:
Product Name: Door Brush
Package Content: 1 x Door Brush
Main Color: White, Black
Material: Plastic, PVC
Weight: 194g
Brush Length: 1M/40-inch
Brush Height: 30mm/1.2-inch
Bottom Holder Size: 1000 x 25 x 3mm/40-inch x 1-inch x 0.12-inch(L*W*T)
Bottom Holder Shape: h Shape
Total Height: 54mm/2.1-inch
Groove Width: 4.5mm/0.18-inch
Mount Type: Self-Adhesive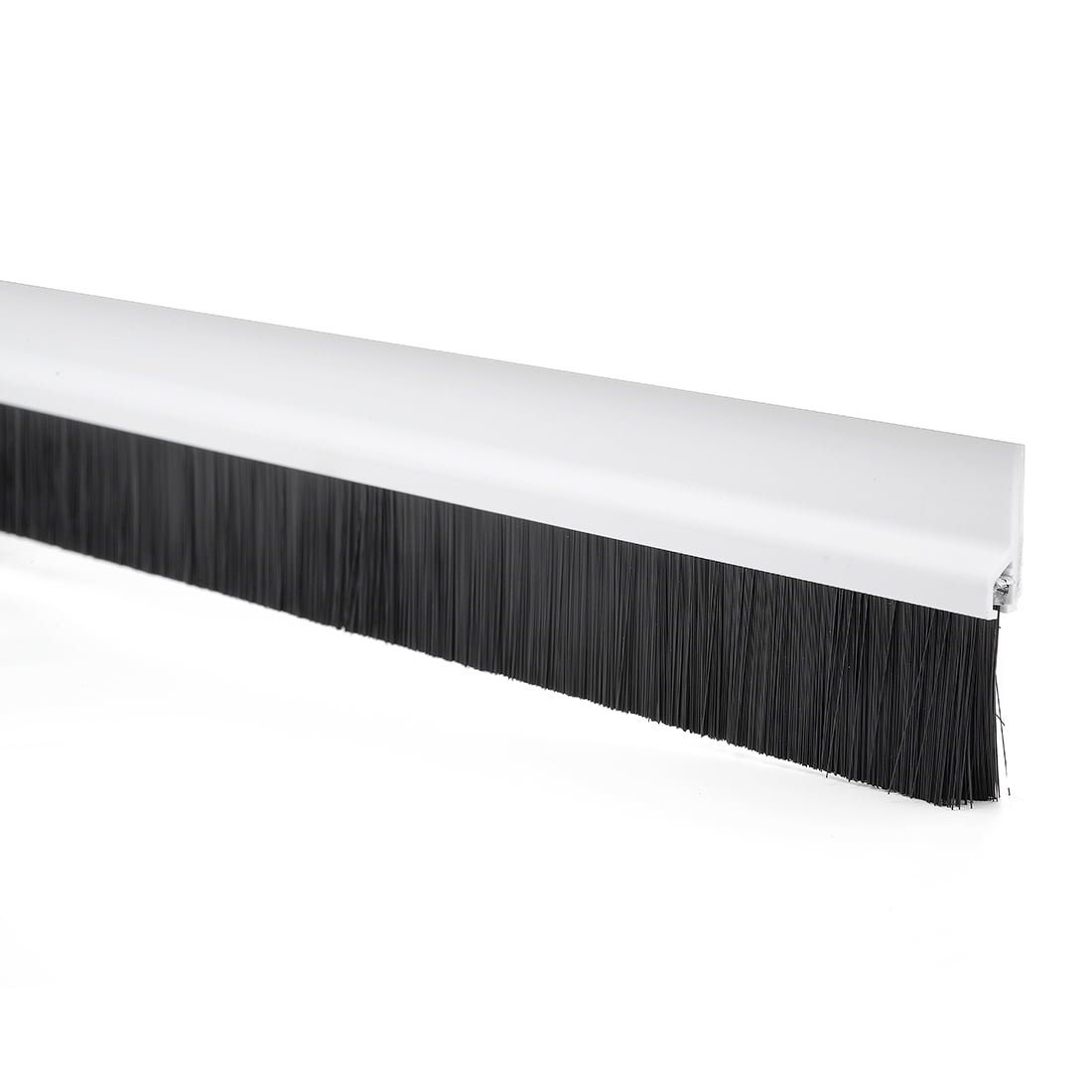 We're sorry! This product is not available. 
1.Door brush is designed to seal the gap between the bottom of the door and the top of the threshold or floor surface.
2.All door bottom sweeps are supplied with black brush.
3.Designed with plastic bottom holder and PVC brush, anti-aging and durable.
4.Greatly reduce the infiltration of light and wind, control the penetration of dust and fumes.
5.Suitable for doors only.
Specification:
Product Name: Door Brush
Package Content: 1 x Door Brush
Main Color: White, Black
Material: Plastic, PVC
Weight: 194g
Brush Length: 1M/40-inch
Brush Height: 30mm/1.2-inch
Bottom Holder Size: 1000 x 25 x 3mm/40-inch x 1-inch x 0.12-inch(L*W*T)
Bottom Holder Shape: h Shape
Total Height: 54mm/2.1-inch
Groove Width: 4.5mm/0.18-inch
Mount Type: Self-Adhesive
1M/40-inch length 30mm/1.2-inch height black brush is provided
Seal the gap between the bottom of the door and the top of the threshold or floor surface
Great changing entry door
Easy to install
Brand
Product Identifiers
Model #
SKU
UPC