SlimRun Cat6A Ethernet Patch Cable - Snagless RJ45_ Stranded_ 550Mhz_ UTP_ Pure Bare Copper Wire_ 10G_ 30AWG _ 10ft_ Blue_ 5-Pack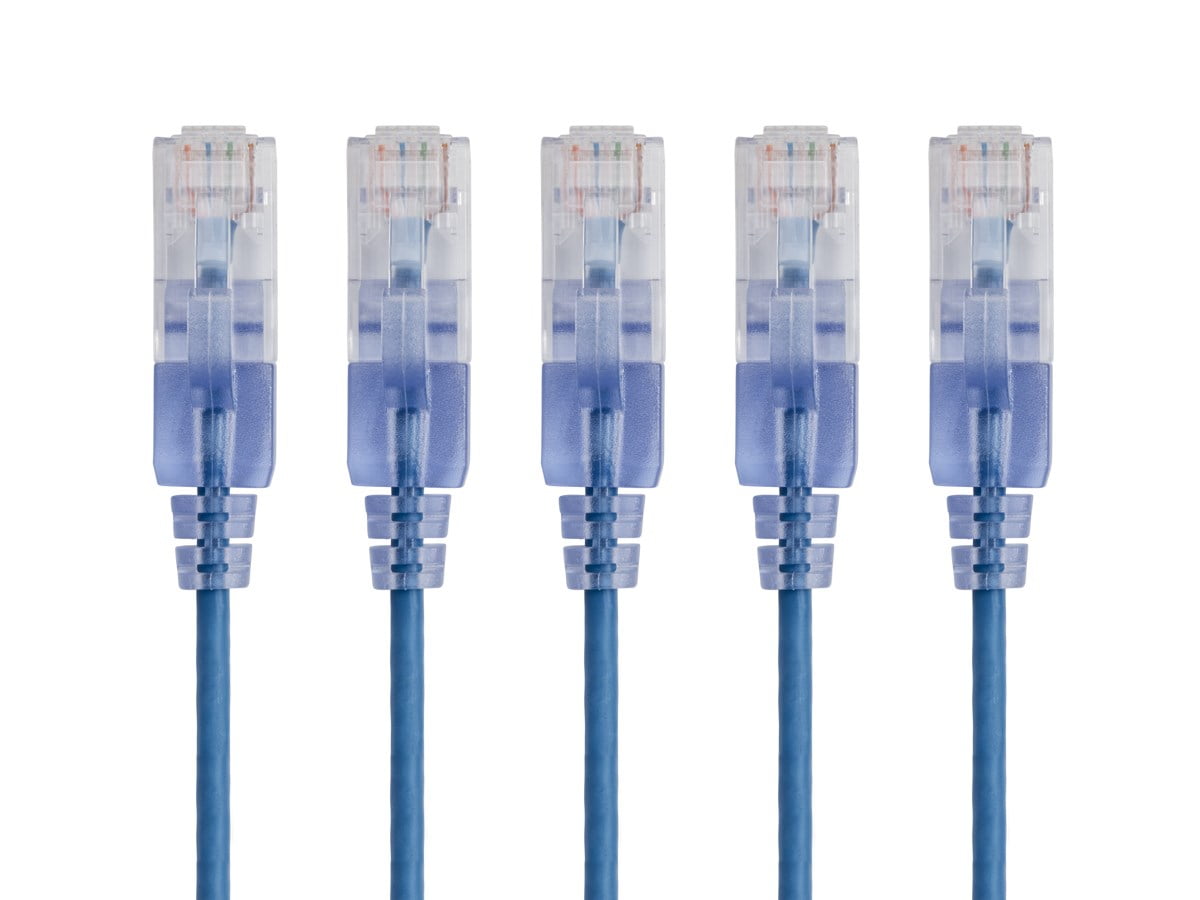 We're sorry! This product is not available. 
Monoprice's SlimRun™ Cat6A is a small cable with big performance. With a cable diameter of almost half a standard Cat6A cable; SlimRun Cat6A is easier to route and saves valuable space in high density environments; such as data centers and telecommunications rooms. With SlimRun Cat6A; you can fit more cables in the same space; saving you the time and cost of expanding or replacing cable pathways. High Performance Thinner and Lighter Snagless and Narrow Boot Design Lifetime Warranty High Performance: This cable is perfect for 10-Gigabit Ethernet and is backwards compatible with any existing Fast Ethernet and Gigabit Ethernet. Thinner and Lighter: SlimRun Cat6A is much lighter than standard 23AWG Cat6A cables and is easier to route and install. The smaller cable saves space and improves airflow in high density environments; like server rooms. Snagless and Narrow Boot Design: The narrow boot and snagless design make this cable the perfect choice for high-density environments; like data centers or a telecommunications room. Lifetime Warranty: Buy with Confidence! With Monoprice's Lifetime Warranty; you can rest assured we stand behind our products and our customers. Reduces Congestion in High Density Spaces Designed for high-density environments where space is a premium; SlimRun's ultra-slim cable and narrow boot design reduces congestion and simplifies moves; additions; and changes. This means that; along with saving space; you also save time and money! Available in individual; 5; and 10 pack bundles for each color and multi-color Lengths: 0.5; 1; 2; 3; 5; 7; 10; 14; and 20 feet Colors: Blue; Black; White; Gray; Yellow; Red; Green Orange; Purple and Pink* *Pink available only in multi-color 10 pack Buy with Confidence With Monoprice's Lifetime Warranty you can rest assuredwe stand behind our products and our customers. Additionally; we offer a 30-day money back guarantee as well! If the product you purchase does not satisfy your needs; send it back for a full refund. Quality at a Fair Price Monoprice's rugged design and rigid quality control standards deliver high quality products at fair prices. Hassle Free Packaging Monoprice exists to bring simplicity; fairness; and confidence to technology choices. This product features recyclable packaging that is simple to open; cost effective; with minimal waste; and fully protective as it travels to you. Service & Support You're never on your own with Monoprice products! We have a full team of friendly and knowledgeable technicians available to answer your questions; both before and after the sale. Contact our technical support team for questions about our products; troubleshooting; or even suggestions for products to fit your particular needs. Not to be outdone; our friendly and helpful customer service team is here to make your ordering; delivery; and any possible returns a quick and painless operation; from start to finish! SlimRun™ is a trademark of Monoprice Inc.
Brand
Product Identifiers
Model #
SKU
UPC