The Golliwogs Fight Fire: The Complete Recordings 1964-1967 CD
By Generic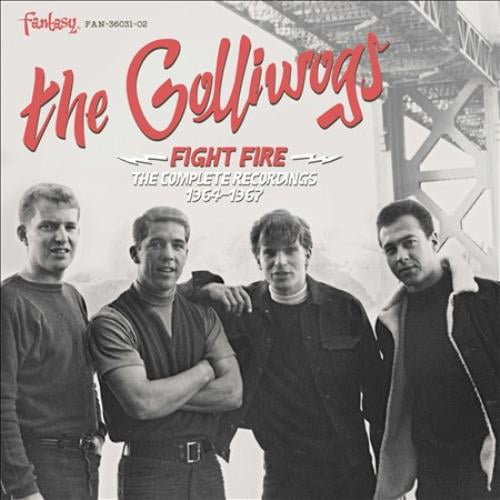 We're sorry! This product is not available. 
The Golliwogs Fight Fire: The Complete Recordings 1964-1967 CD. Personnel: John Fogerty (vocals, guitar, harmonica, keyboards); Tom Fogerty (vocals, guitar); Stu Cook (vocals, keyboards); Doug Clifford (vocals, drums, percussion).
Audio Remasterer: Joe Tarantino.
Recording information: Fantasy Records, San Francisco.
Photographer: Mike Howard .
Before Creedence Clearwater Revival were the chart-topping, era-defining band they went on to be, John Fogerty, his brother Tom, Stu Cook, and Doug Clifford had been struggling to make an impact for almost a decade. After playing in various bands that didn't make much of a splash, their mid-'60s incarnation as the Golliwogs found the group kicking out some seriously good garage rock, snappy Beat group knock-offs, and quite a few songs that pointed towards CCR. The band started off in 1964 with Tom and John sharing lead vocals on songs like "I Only Met You Just an Hour Ago" and "You Got Nothing on Me," amiable Beatles-inspired songs that make up for their lack of originality with a healthy dose of teenage energy and occasionally strike gold, like on the moody "Don't Tell Me No Lies." Once John took over on vocals and asserted his songwriting skills, things started to get more interesting. In 1965/1966 they started working on their own sound and in the process made some great garage rock. "Brown-Eyed Girl" is a dark, rumbling, minor-key rocker that Them would have been glad to have in their set; "Fight Fire" is a monster rocker with some fiery guitar riffing, and the garage ballad/rocker hybrid "Try Try Try" would have been a highlight of a Nuggets comp. By the time late 1966 hit, the band was starting to tap into something unique and that fall's single "Walking on the Water" is a weird, one-chord song where the transition to the dark blues of CCR really begins. It's in the power of John's vocal, the clipped guitar playing, and the brutal drive of the rhythm section. From that point on the band went from a traditional garage band to something a little fuller and more expressive. The songs they recorded in 1967 show a new level of confidence and richness, with John coming into his own as a songwriter and the band starting to capture the tightly wound toughness they became known for. Tracks like the soulful "Tell Me" or the rollicking "Porterville" (which CCR ended up re-doing later) basically sound like Creedence, and good Creedence at that. The Golliwogs work has been compiled before, on LP in the '70s and as part of a CCR box set in 2001, but this is the first time their complete works have been showcased as a whole under their own name. It may have been down to legal issues or perceived lack of interest that it hasn't happened until now, but the important thing is that it has finally happened and fans of CCR, John Fogerty, and good old-fashioned garage rock can be glad of it. ~ Tim Sendra
Brand
Product Identifiers
Model #
SKU
UPC