Unique Bargains 304 Stainless Steel 9mm Thick Ring Oblong Sail Shade Pad Eye Plate 4pcs
1.High quality 304 Stainless Steel - High strength, antirust?and corrosion resistance.
2.Quick setup. Base Size: 4-inch x 1.42-inch.
3.This pad eye hardware is an essential mounting accessory to any shade sail. Flat?plate with projecting loop/ring.
4.Great for securing and holding down items.?Use in a variety of boat or household applications.
5.Perfect for sailing, boating, and many other marine and rough weather applications.
6.Mounting screws are not included here.

Specifications:
Product Name: Pad Eye
Material: 304 Stainless Steel
Base Size: 100 x 36mm / 4-inch x 1.42-inch (L*W);?Height: 39mm / 1.54-inch
Eye Inner Size: 27 x 26mm / 1.06-inch x 1.02-inch (L*W)
Eye Thickness: 9mm / 0.36-inch
Mounting Hole Dia.: 6.2mm / 0.24-inch
Mounting Hole Distance: 70mm / 2.8-inch
Package Content: 4pcs x Pad Eye
Weight: 430g; Main Color: Silver Tone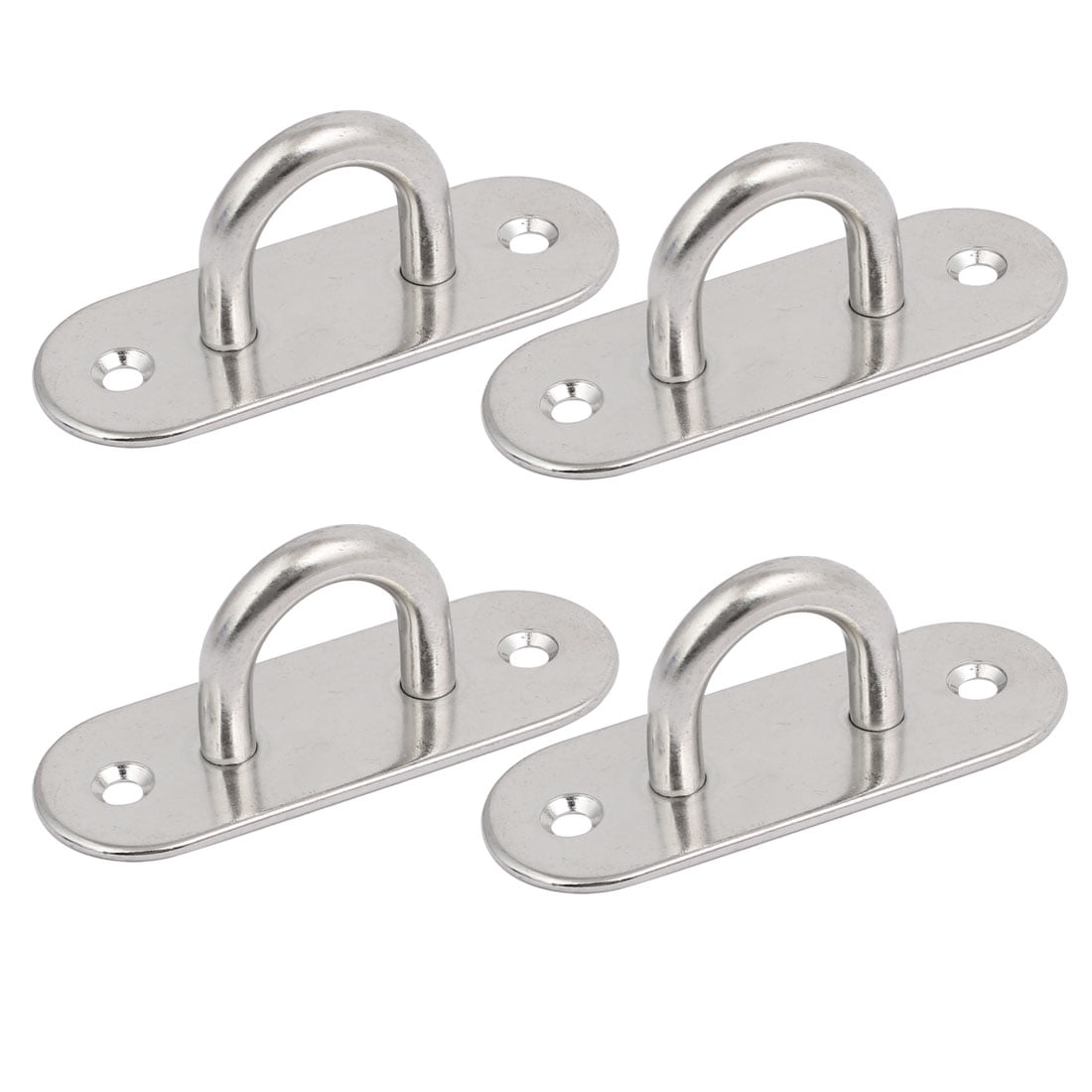 We're sorry! This product is not available. 
1.High quality 304 Stainless Steel - High strength, antirust?and corrosion resistance.
2.Quick setup. Base Size: 4-inch x 1.42-inch.
3.This pad eye hardware is an essential mounting accessory to any shade sail. Flat?plate with projecting loop/ring.
4.Great for securing and holding down items.?Use in a variety of boat or household applications.
5.Perfect for sailing, boating, and many other marine and rough weather applications.
6.Mounting screws are not included here.
Specifications:
Product Name: Pad Eye
Material: 304 Stainless Steel
Base Size: 100 x 36mm / 4-inch x 1.42-inch (L*W);?Height: 39mm / 1.54-inch
Eye Inner Size: 27 x 26mm / 1.06-inch x 1.02-inch (L*W)
Eye Thickness: 9mm / 0.36-inch
Mounting Hole Dia.: 6.2mm / 0.24-inch
Mounting Hole Distance: 70mm / 2.8-inch
Package Content: 4pcs x Pad Eye
Weight: 430g; Main Color: Silver Tone
Quick setup. Base Size: 4-inch x 1.42-inch
An essential mounting accessory to any shade sail
Perfect for sailing, boating, and many other marine and rough weather applications
Mounting screws are not included here
Unique Bargains Cabinet Cupboard Press Open Push Door Catches Latches 50mmx28mmx11mm 5pcs
Brand
Product Identifiers
Model #
SKU
UPC