Unique Bargains M6 Thread 304 Stainless Steel Rivet Nut Rivnut Insert Nutsert 50pcs
Rivet Nuts provide load-bearing threads in thin sheet materials that are too thin for a tapped thread.
?Rivet Nuts also are used when an application has little or no access to the backside as they can be installed from the front side of the work piece.
Advantage of Rivet Nuts:
Rivet Nuts provide a strong thread in thin materials that cannot be tapped.
Rivet Nuts can be installed from one side of the work piece, also known as a Blind Application
Rivet Nuts work great when easy disassembly and reassembly of products is required.
Rivet nuts can be installed in many different kinds of material including steel, plastic and fiberglass.
Once Rivet Nuts are installed additional components with threaded fasteners can be attached.
Rivet Nuts do not need to be welded to the base material.
Prepainted material will not be damaged during the Rivet Nut installation process
Rivet Nuts are available in many different styles and materials for many different kinds of applications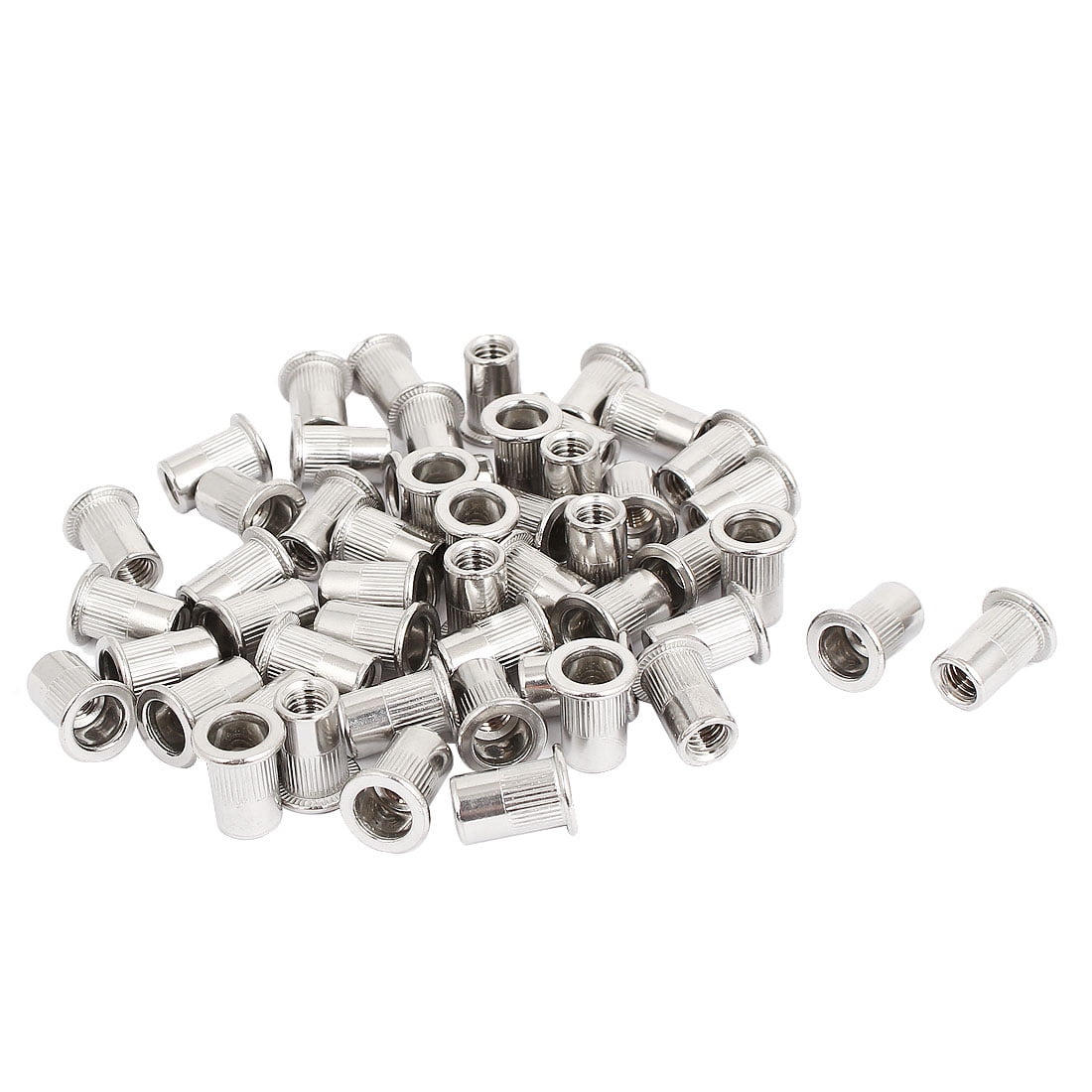 We're sorry! This product is not available. 
Rivet Nuts provide load-bearing threads in thin sheet materials that are too thin for a tapped thread.
?Rivet Nuts also are used when an application has little or no access to the backside as they can be installed from the front side of the work piece.
Advantage of Rivet Nuts:
Rivet Nuts provide a strong thread in thin materials that cannot be tapped.
Rivet Nuts can be installed from one side of the work piece, also known as a Blind Application
Rivet Nuts work great when easy disassembly and reassembly of products is required.
Rivet nuts can be installed in many different kinds of material including steel, plastic and fiberglass.
Once Rivet Nuts are installed additional components with threaded fasteners can be attached.
Rivet Nuts do not need to be welded to the base material.
Prepainted material will not be damaged during the Rivet Nut installation process
Rivet Nuts are available in many different styles and materials for many different kinds of applications
Material: 304 Stainless Steel; Weight: 186g
Package Content: 50(+/-2%)pcs x Rivet Nut; Main Color: Silver Tone
Height: 15mm/0.6"; Head Diameter: 12x7mm/0.47"x0.28"(Outer.D*Inner.D)
Head Thickness: 1mm/0.04"; Outer Knurling Size: 9x7mm/0.35"x0.28"(D*L)
Brand
Product Identifiers
Model #
SKU
UPC