Baby and Toddler On the Go: Cookbook Fresh, Homemade Foods To Take Out And About
Kim Laidlaw
By n/a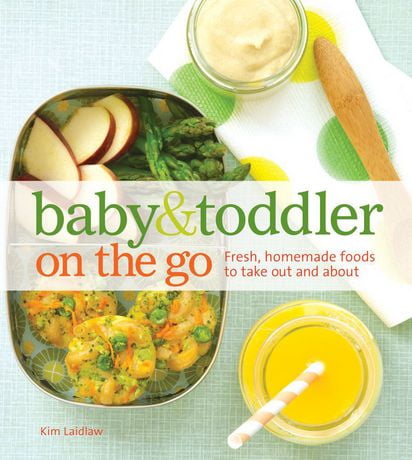 We're sorry! This product is not available. 
Packed with more than 75 simple-to-prepare and easy-to-transport recipes made with fresh ingredients, Baby and Toddler On the Go--follow-up to the bestselling Baby and Toddler Cookbook--offers a tasty and nutritious approach to feeding children from 4 months to 3 years.
Feeding your baby or toddler a healthy homemade meal while you are on the go may seem like a daunting task, but with the easy-to-prepare recipes and guidance found in this cookbook, you can make it happen without a lot of time spent in the kitchen. Life is busy, especially with a little one in tow, and it doesn't leave much time to plan, prep ingredients, and prepare wholesome meals that are easy to take along, whether you are traveling by car or plane, heading to daycare or the park, or simply running errands. The more than 75 wholesome, yummy recipes found here, plus loads of tips and tricks for planning, prepping, cooking, packaging, and feeding, will set you up for any situation. Baby & Toddler On the Go takes you through each stage of eating, from introducing purees at 4 to 6 months, to bite-sized mini meals packed with nutritious ingredients by 12 months, to sandwiches and finger foods appropriate for toddlers 18 months to 3 years and beyond. Plus, nearly all of the recipes found here can be made in advance and stored in the freezer, meaning that you can have a array of different meals at your fingertips, anytime. So, no matter where you are, it's possible to feed your child tasty meals and snacks that are sure to elicit a smile.
Table of Contents
PART 1: BABY (4 months to 1 year)
Chapter 1: Purees & Chunks Cooked Fruit Purees Raw Fruit Purees Roasted Root Veggies Baked Yams Baked Golden Beets Steamed Veggies Sauteed Greens Roasted Winter Squash Idea: Fruit & Veggie Combos Grains (brown rice, barley, oats, quinoa) Idea: Adding Spices & Herbs Proteins (ground chicken, turkey & lamb; braised pork, beef & chicken) Idea: Fun Combos Homemade Yogurt Idea: Smoothies
PART 2: TODDLER (1–3 years)
Chapter 2: Dips & Dippers Idea: All About Dippers Black Bean-Cheese Dip White Bean Dip Hummus Guacamole Cucumber-Yogurt Dip Roasted Red Pepper & Goat Cheese Dip Homemade "Ranch" Dip Homemade Onion Dip Fruit & Vanilla Yogurt Spiced Nut Butter Dip Idea: Cottage Cheese Add-ins
Chapter 3: Pinwheels & Sammies Idea: Wrappers & Breads Goat Cheese & Shredded Veggie Pinwheels Hummus & Shredded Veggie Pinwheels Turkey & Havarti Pinwheels Almond Butter & Banana Pinwheels Smoked Salmon, Cucumber & Cream Cheese Pinwheels Idea: Fun with Pinwheels Eggplant & Ricotta Cheese Rolls with Tomato Dip Veggie Sushi Rolls Chicken and Veggie Rice Paper Rolls Idea: Fun with Sammies Cucumber & Cream Cheese Sammies Roasted Red Pepper & Goat Cheese Sammies Cashew Butter & Jam Sammies Peanut Butter, Apple & Cheddar Sammies Fish Sammies Artichoke Dip Sammies Turkey & Brie & Jam Sammies Pesto and Fresh Mozzarella Sammies Idea: Mini Pita Pockets Avocado Toasties Veggie Grilled Cheese
Chapter 4: Mac & Cheese Mini Bites Idea: Mac & Cheese Variations Pasta Primavera Creamy Penne & Mushroom Spinach & Goat Cheese Frittata Bites Idea: Frittata Bites Frittata Pasta Great Grains Pasta Spanish Potato Tortilla Bites Creamy Mushroom Bread Tartlets Mini Ham, Broccoli & Cheddar Quiches Salmon Cakes Turkey Meatloaf Bites Mini Meatballs Curried Lentil & Rice Cakes Baked Arancini Idea: Master Muffin Mix Fruity Mini Muffins (Blueberry, Apple, Banana) Veggie-Spice Mini Muffins (Zucchini, Carrot) Oatmeal-Raisin Cookie Mini Muffins Raisin Bran Mini Muffins Cheesy Biscuit Muffins Savory Corn Muffins Gluten-Free Blueberry-Almond Mini Muffins Idea: Fruit Salads
Author(s)/editor(s)
Kim Laidlaw
Format
Hardcover
ISBN-13
9781616284992
Language
English
Manufacturer/Publisher
Weldon Owen
Release date
2013-04-30
Brand
Product Identifiers
Walmart Item #
SKU
UPC