Bird Lover's Blend No Waste Blend
Bird Lover's Blend No Waste Blend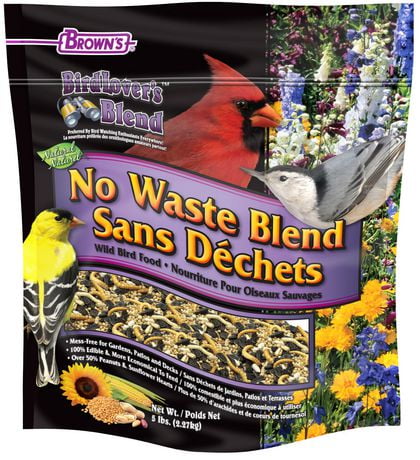 Did you know that 45% of sunflower seeds are actually the shells that go to waste and fall to the ground? There's no waste with this blend! We use only the sunflower hearts, making our blend more economical to feed than regular in-shell blends.
There's No Waste!
There will be no unsightly mess under your feeders. Your patio, garden and deck will stay eye-catching.
There's No Mess!
Because we removed the protective shells, these seeds can't germinate and grow as they fall to the ground.
No Germinating Seeds!
It's jam-packed with over 50% peanuts and sunflower hearts. This means high oil and fat content…just what all wild birds require. The best feeder for this blend is an enclosed feeder to protect the feeder from inclement weather.
A Gourmet Blend!
No Waste!
This blend attracts nature's most colorful feathered friends into your backyard. Birds will love the natural, shelled ingredients. We know it will attract the greatest variety of wild birds you so highly desire. We believe it will fulfill all your birdfeeding needs and bring into your life all the rewards of this enjoyable hobby.
* 100% Edible & More Economical to Feed
* Less Mess & Cleanup
* Over 50% Peanuts & Sunflower Hearts
* The shells have been removed from each tasty ingredient so very morsel is a 100% edible food.
Brand
Product Identifiers
Walmart Item #
SKU
UPC