CALL OF DUTY GHOSTS XBOX 360 PRESTIGE EDITION
CALL OF DUTY GHOSTS XBOX 360 PRESTIGE EDITION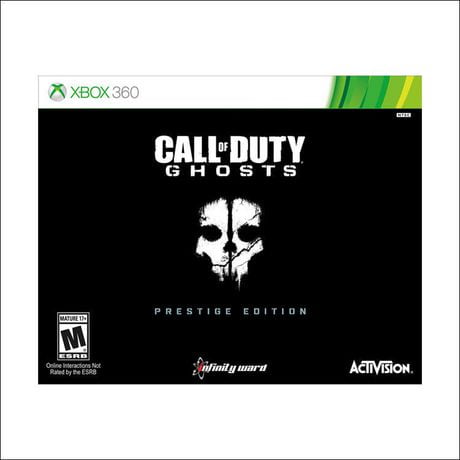 We're sorry! This product is not available. 
The Call of Duty®: Ghosts Prestige Edition is the ultimate Collector's Edition.  It comes loaded with a high-value cache of collectible physical items, including a 1080p HD Tactical Camera and bonus digital content inspired by the legendary masked Special Operations unit. Pre-Order now while supplies last.
1080p HD Tactical Camera: Film, edit, and share custom made videos with a mountable 1080p HD Tactical Camera, modeled from actual in-game equipment. This shock proof and water resistant HD digital video recorder features a 170° wide angle lens and comes equipped with three attachments so you can take it anywhere you go. A 4GB memory card, batteries, and editing software are also included.
Call of Duty®: Ghosts Season Pass: Get four epic DLC Map Packs*, each delivering a collection of fresh Call of Duty: Ghosts multiplayer content and more. Plus, you'll receive the Team Leader digital content pack, a Season Pass-bonus that includes a unique MP character head with headgear, weapon camo, reticle, player patch, player card and player background, all playable in-game upon purchase.
Free Fall Dynamic Bonus Map: A brand-new dynamic downloadable multiplayer map that drops you into a shattered skyscraper on the brink of collapse. Frantic action is thrown into overdrive as the skyscraper continues to fall throughout the match, evolving gameplay in real-time.
Paracord Strap: A modern day military staple, this wearable tool allows you to carry over 9 feet of versatile paracord on hand wherever you go.
Collectible SteelBook™: Secure a limited edition steel game case featuring premium artwork.
Player Patch: Show your enemies what you stand for with an in-game Ghosts insignia player patch.
Player Card: Leave your mark on any killcam with an in-game Ghosts insignia player card.
Player Background:  Stand out in any lobby list with a Ghosts-themed player background.
Official Call of Duty®: Ghosts Soundtrack: Upgrade your playlist with a digital copy of the in-game score.
*DLC content in the Season Pass may be sold separately.  If you purchase the Collector's Edition with the Season Pass, do not also purchase the standalone map packs, as you will be charged for them.  Season Pass and DLC content may not be available on all platforms or in all territories.  Pricing and release dates may vary by platform.


Inférieurs en nombre et en armement, mais pas surpassés.
Call of DutyMD: Ghosts représente un véritable pas en avant pour l'une des plus grandes franchises de tous les temps du divertissement. Ce nouveau chapitre de la franchise Call of DutyMD se caractérise par une nouvelle dynamique où les joueurs combattent pour une nation désemparée : cette fois, ils en le font pas pour leur liberté, mais simplement pour leur survie.
Cette toute nouvelle expérience Call of Duty est alimentée par le tout récent moteur nouvelle génération, qui offre des niveaux imprenables d'immersion et de performance, tout en maintenant la vitesse et la fluidité de 60 images par seconde sur toutes les plateformes.
Campagne solo
L'action se déroule dix ans après un événement dévastateur qui a bouleversé les frontières de l'Amérique et l'équilibre du pouvoir mondial pour toujours. Ce qui reste de l'unité des forces spéciales, un groupe mystérieux connu seulement sous le nom de « Ghosts », mène la contre-attaque contre une nouvelle puissance mondiale, technologiquement supérieure.
Un nouvel environnement Call of Duty : pour la première fois dans l'histoire de la franchise, les joueurs assument le rôle de ceux que l'on donne perdant, les Ghosts. Inférieurs en nombre et en armement, les joueurs doivent se battre pour récupérer une nation tombée, et ce, dans un récit très personnel. Les joueurs feront connaissance d'une toute nouvelle galerie de personnages et visiteront des endroits d'un monde totalement transformé qui ne ressemble en rien à ce qu'ils ont connu dans les précédentes versions de Call of DutyMD.
Jeu multijoueur
Dans Call of Duty : Ghosts, vous ne créez pas simplement une classe, mais un soldat, une première pour la franchise. Dans le nouveau système de création de soldats, les joueurs peuvent modifier l'apparence physique de leur soldat – choix de la tête, de l'apparence du corps, du casque et de l'équipement, et, pour la première fois dans Call of DutyMD, de son sexe. Avec 20 000 combinaisons possibles, c'est la personnalisation de personnage la plus flexible et complète de l'histoire de la franchise.
De nouvelles cartes dynamiques sont l'évolution du mode multijoueur. Elles comprennent des éléments interactifs et des événements déclenchés par les joueurs qui font évoluer l'environnement bataille après bataille. L'ensemble de l'environnement peut changer et forcer les joueurs à modifier leur stratégie.
Call of Duty : Ghosts introduit de nouveaux mouvements tactiques. Le nouveau système d'accroupissement contextuel permet désormais aux joueurs de se défiler autour des obstacles sans ajouter de combinaisons de touches ou se mettre à découvert. Le nouveau système d'enjambement d'obstacles permet un mouvement fluide sur les objets tout en maintenant son élan. La glisse du genou permet une transition naturelle du sprint à la position accroupie, à la position rampante.
Call of Duty : Ghosts donne accès à plus de 20 nouveaux profils, tels que Juggernaut Maniac, Helo Scout, Vautour et le coup d'ODIN. Les joueurs peuvent même choisir le chien de garde Riley en campagne solo, pour se protéger aussi bien que pour attaquer les ennemis. Le jeu compte aussi plus de 30 nouvelles armes, dont une toute nouvelle classe : les fusils pour tireurs d'élite. 
Groupe de combat
Bâtissez votre équipe : vous pouvez prendre jusqu'à 6 compagnons dans ce tout nouveau mode de combat. Ce mode utilise les meilleurs aspects de l'expérience multijoueur et vous permet de jouer soit en solo, soit en coopération avec les soldats personnalisés créés et mis à niveau en mode multijoueur.
Les choix faits pour chaque membre de votre escouade influencent directement leur comportement, déterminé par leur IA. Donnez à votre soldat un fusil de tireur d'élite et il se comportera comme tel, et unSMGse démarquera par ses attaques éclaires.
ESRB rating
M
Platform
Microsoft Xbox 360
Studio
Infinity Ward
Brand
Product Identifiers
Walmart Item #
SKU
UPC