Dead Island Riptide X360
Dead Island Riptide X360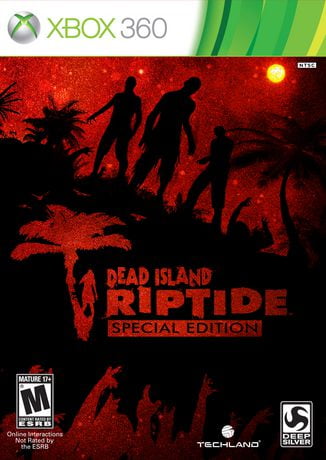 We're sorry! This product is not available. 
GAME OVERVIEW
The horrors of Banoi Island should have been left behind, with safety fi nally
at hand, but some threats come back menacingly. Now the heroes fi nd
themselves once again trapped amongst the ultimate zombie apocalypse,
and a raging monsoon promises no true safe haven. As the threats grow
from every side, the struggle may be the only element keeping the hopes of
survival alive.
PRODUCT DESCRIPTION
Dead Island Riptide is the next gut-grinding installment in the fi rst person
Zombie-Slasher/Action RPG series, and it aims to literally take the world by
storm. Picking up immediately where Dead Island leaves off, the group of
protagonists crash upon a new part of the Banoi Island and are forced into
the continuing outbreak once more while a destructive monsoon rages all
around. Featuring a brand new martial arts protagonist, new and familiar
enemies, and a groundbreaking weather system that simultaneously
challenges and assists players via fl oodwaters, Dead Island Riptide brings a
single player and cooperative zombie experience like no other.
DEAD ISLAND RIPTIDE SPECIAL EDITION
CONTENT:
 Alternate Skin for the New Character (John Morgan)
 Pack of Weapon Mods
 Digital Strategy Map
KEY FEATURES
• Campaigns can be experienced in single or seamless jump-in/out
cooperative multiplayer, with the aid of enhanced communication
features via target marking and voice chat
• The environment is both friend and foe, as the flood waters from the
storm challenge progress and conceal enemies while simultaneously
granting access to areas previously unreachable
• The introduction of a mysterious new protagonist, immune to the
outbreak and highly skilled in hand-to-hand martial arts
• Familiar enemies are joined by a new lineup of ferocious villains, forcing
new and old players alike to adapt to survival by any means necessary
• Weapon collecting and crafting has been improved and expanded,
providing players with greater options for wreaking havoc upon enemies
• The leveling system and skill trees have been expanded to allow greater
customization, and will fully support players' imported character stats
from the first game
ESRB rating
M (Mature 17+)
Platform
Microsoft Xbox 360
Studio
Square Enix
Brand
Product Identifiers
Walmart Item #
Model #
SKU
UPC