Earth Spirit Navajo Women's Sandal
Earth Spirit Navajo Women's Sandal
By Earth Spirit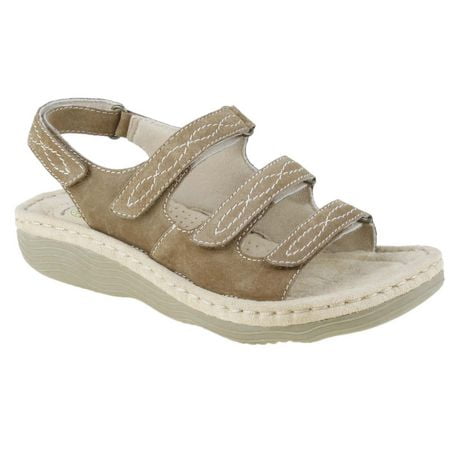 We're sorry! This product is not available. 
Earth Spirit Navajo Women's Leather Sandal in color brown and black, sizes 5, 6-9, 10, 11, half sizes from 6 to 9
Hook and loop closure on every strap to allow plenty of adjustbility. Thick sponge sock support comfortable fitting. Flat bottom provides flexibility.
Available for Shipping to Grab & Go Locker
Yes
Available for Shipping to Canada Post
Yes
Size
8
Brand
Product Identifiers
Walmart Item #
Model #
SKU
UPC
Available for Shipping to Grab & Go Locker
Yes
Available for Shipping to Canada Post
Yes
Size
7.5
Brand
Product Identifiers
Walmart Item #
Model #
SKU
UPC
Available for Shipping to Grab & Go Locker
Yes
Available for Shipping to Canada Post
Yes
Size
7
Brand
Product Identifiers
Walmart Item #
Model #
SKU
UPC
Available for Shipping to Grab & Go Locker
Yes
Available for Shipping to Canada Post
Yes
Size
8.5
Brand
Product Identifiers
Walmart Item #
Model #
SKU
UPC
Available for Shipping to Grab & Go Locker
Yes
Available for Shipping to Canada Post
Yes
Size
9
Brand
Product Identifiers
Walmart Item #
Model #
SKU
UPC
Available for Shipping to Grab & Go Locker
Yes
Available for Shipping to Canada Post
Yes
Size
10 IN
Brand
Product Identifiers
Walmart Item #
Model #
SKU
UPC
Available for Shipping to Grab & Go Locker
Yes
Available for Shipping to Canada Post
Yes
Size
6.5
Brand
Product Identifiers
Walmart Item #
Model #
SKU
UPC
Available for Shipping to Grab & Go Locker
Yes
Available for Shipping to Canada Post
Yes
Size
8.5
Brand
Product Identifiers
Walmart Item #
Model #
SKU
UPC
Size
5
Brand
Product Identifiers
Walmart Item #
Model #
SKU
UPC
Size
6
Brand
Product Identifiers
Walmart Item #
Model #
SKU
UPC
Available for Shipping to Grab & Go Locker
Yes
Available for Shipping to Canada Post
Yes
Size
9
Brand
Product Identifiers
Walmart Item #
Model #
SKU
UPC
Available for Shipping to Grab & Go Locker
Yes
Available for Shipping to Canada Post
Yes
Size
7
Brand
Product Identifiers
Walmart Item #
Model #
SKU
UPC
Available for Shipping to Grab & Go Locker
Yes
Available for Shipping to Canada Post
Yes
Size
11 IN
Brand
Product Identifiers
Walmart Item #
Model #
SKU
UPC
Available for Shipping to Grab & Go Locker
Yes
Available for Shipping to Canada Post
Yes
Size
11 IN
Brand
Product Identifiers
Walmart Item #
Model #
SKU
UPC
Available for Shipping to Grab & Go Locker
Yes
Available for Shipping to Canada Post
Yes
Size
7.5
Brand
Product Identifiers
Walmart Item #
Model #
SKU
UPC
Available for Shipping to Grab & Go Locker
Yes
Available for Shipping to Canada Post
Yes
Size
5
Brand
Product Identifiers
Walmart Item #
Model #
SKU
UPC
Available for Shipping to Grab & Go Locker
Yes
Available for Shipping to Canada Post
Yes
Size
8
Brand
Product Identifiers
Walmart Item #
Model #
SKU
UPC
Size
6.5
Brand
Product Identifiers
Walmart Item #
Model #
SKU
UPC
Available for Shipping to Grab & Go Locker
Yes
Available for Shipping to Canada Post
Yes
Size
10 IN
Brand
Product Identifiers
Walmart Item #
Model #
SKU
UPC