EverStart Lawn and Garden Battery
Built for Canada Tough, Group size U1, 150 CCA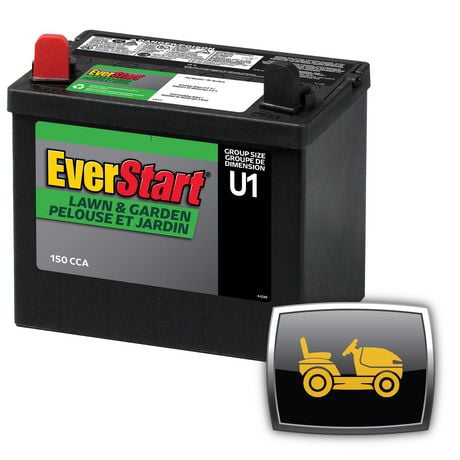 Built for Canada Tough. Quality Batteries at a great price!
Manufactured in the USA by the battery industry's leader in quality and performance. EverStart offers a full line of maintenance-free Batteries for lawn & garden applications. Plenty of cranking amps to power tractors and recreational vehicles across the roughest terrain. Flush cover design eliminates the danger of harmful acid spills and lost vent caps, providing safer and easier operation.
Walmart will recycle your old spent Batteries free of charge! Virtually 100% of each spent battery is recycled into a new product. 65% of all lead used in the manufacture of new EverStart Batteries are from recycled lead.
• 150 CCA
• 3 Months Free Replacement Warranty
• Electrical short prevention system protects power-producing components from life-robbing electrical shorts
• Vibration-resistant design with reinforced posts, straps, and welds withstand demanding conditions
• Power-Perform™, full-framed plates better withstand severe service demands while optimizing current transfer
• Tough polypropylene case and cover resist external damage from tough outdoor use
• Side, safety vent system prevents acid leaks up to a 45° tilt, keeping battery dry and corrosion-free
Model Number
Group Size U1, Lawn and Garden
Brand
Product Identifiers
Walmart Item #
SKU
UPC