G14012 Genuine Dickies Snap Work Shirt
Men's Shirt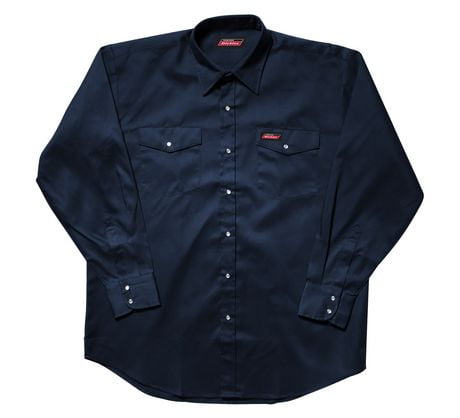 Dickies: Guaranteed workwear since 1922.
Full front placket opening, with 6 pearl snap closures.
Two chest pockets with flaps and one pearl snap on each.
Pencil slot in left chest pocket flap.
Stand up collar, with inner-lining and collar stays.
Long sleeves with full sleeve placket openings, two pearl snap closures on each cuff.
Regular back yoke.
Stain release finish.
Durable 65% polyester/ 35% cotton twill.
Available in color Dark Navy, Black.
Available sizes: waists M, L, XL, 2X

Some stores may not carry full product assortment, contact your store for details.
Product Label Contents:
65% polyester/ 35% cotton twill
Assembled product dimensions: L 15.00 inches x W 10.00 inches x H 1.00 inches x W 0.30 pounds
Available for Shipping to Grab & Go Locker
Yes
Available for Shipping to Canada Post
Yes
Size
XXL
Assembled Product Height
1 Inches
Assembled Product Length
15 Inches
Assembled Product Weight
0.3 Pounds
Assembled Product Width
10 Inches
Brand
Supplier Warranty
Since 1922, Dickies quality has been built in every product. We will replace any garment if you are not satisfied. Wal-Mart Canada customers can call our special customer service line with any comments at 1-888-664-6636 or reach us via email
Product Identifiers
Walmart Item #
Model #
SKU
UPC
Available for Shipping to Grab & Go Locker
Yes
Available for Shipping to Canada Post
Yes
Size
XL
Assembled Product Height
1 Inches
Assembled Product Length
15 Inches
Assembled Product Weight
0.3 Pounds
Assembled Product Width
10 Inches
Brand
Supplier Warranty
Since 1922, Dickies quality has been built in every product. We will replace any garment if you are not satisfied. Wal-Mart Canada customers can call our special customer service line with any comments at 1-888-664-6636 or reach us via email
Product Identifiers
Walmart Item #
Model #
SKU
UPC
Available for Shipping to Grab & Go Locker
Yes
Available for Shipping to Canada Post
Yes
Size
XL
Assembled Product Height
1 Inches
Assembled Product Length
15 Inches
Assembled Product Weight
0.3 Pounds
Assembled Product Width
10 Inches
Brand
Supplier Warranty
Since 1922, Dickies quality has been built in every product. We will replace any garment if you are not satisfied. Wal-Mart Canada customers can call our special customer service line with any comments at 1-888-664-6636 or reach us via email
Product Identifiers
Walmart Item #
Model #
SKU
UPC
Available for Shipping to Grab & Go Locker
Yes
Available for Shipping to Canada Post
Yes
Size
M
Assembled Product Height
1 Inches
Assembled Product Length
15 Inches
Assembled Product Weight
0.3 Pounds
Assembled Product Width
10 Inches
Brand
Supplier Warranty
Since 1922, Dickies quality has been built in every product. We will replace any garment if you are not satisfied. Wal-Mart Canada customers can call our special customer service line with any comments at 1-888-664-6636 or reach us via email
Product Identifiers
Walmart Item #
Model #
SKU
UPC
Available for Shipping to Grab & Go Locker
Yes
Available for Shipping to Canada Post
Yes
Size
M
Assembled Product Height
1 Inches
Assembled Product Length
15 Inches
Assembled Product Weight
0.3 Pounds
Assembled Product Width
10 Inches
Brand
Supplier Warranty
Since 1922, Dickies quality has been built in every product. We will replace any garment if you are not satisfied. Wal-Mart Canada customers can call our special customer service line with any comments at 1-888-664-6636 or reach us via email
Product Identifiers
Walmart Item #
Model #
SKU
UPC
Available for Shipping to Grab & Go Locker
Yes
Available for Shipping to Canada Post
Yes
Size
L
Assembled Product Height
1 Inches
Assembled Product Length
15 Inches
Assembled Product Weight
0.3 Pounds
Assembled Product Width
10 Inches
Brand
Supplier Warranty
Since 1922, Dickies quality has been built in every product. We will replace any garment if you are not satisfied. Wal-Mart Canada customers can call our special customer service line with any comments at 1-888-664-6636 or reach us via email
Product Identifiers
Walmart Item #
Model #
SKU
UPC
Available for Shipping to Grab & Go Locker
Yes
Available for Shipping to Canada Post
Yes
Size
L
Assembled Product Height
1 Inches
Assembled Product Length
15 Inches
Assembled Product Weight
0.3 Pounds
Assembled Product Width
10 Inches
Brand
Supplier Warranty
Since 1922, Dickies quality has been built in every product. We will replace any garment if you are not satisfied. Wal-Mart Canada customers can call our special customer service line with any comments at 1-888-664-6636 or reach us via email
Product Identifiers
Walmart Item #
Model #
SKU
UPC
Available for Shipping to Grab & Go Locker
Yes
Available for Shipping to Canada Post
Yes
Size
XXL
Assembled Product Height
1 Inches
Assembled Product Length
15 Inches
Assembled Product Weight
0.3 Pounds
Assembled Product Width
10 Inches
Brand
Supplier Warranty
Since 1922, Dickies quality has been built in every product. We will replace any garment if you are not satisfied. Wal-Mart Canada customers can call our special customer service line with any comments at 1-888-664-6636 or reach us via email
Product Identifiers
Walmart Item #
Model #
SKU
UPC