George 21 Topic Women's Dress Sandal
George 21 Topic Women's Dress Sandal (Made in China)
By George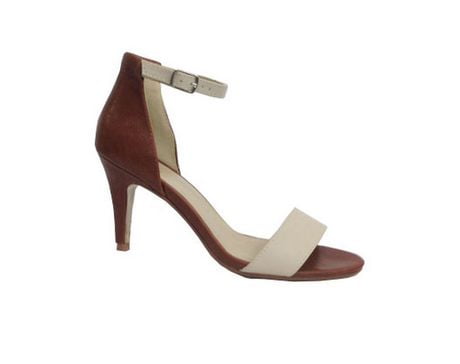 We're sorry! This product is not available. 
The George 21 Topic ladies' open toe dress sandal is the perfect summer shoe, pairing as easily with a professional pants outfit as it does with a sexy summer dress.
Available in black and white patent, natural multi faux-leather, black, blue and coral micofibre.
Adjustable ankle strap on back counter.
Open toe, with slender, feminine front strap.
Slender, feminine 3 1/2 inch heel.
All man made materials.
Made in China.
Available for Shipping to Grab & Go Locker
Yes
Available for Shipping to Canada Post
Yes
Size
6
Brand
Product Identifiers
Walmart Item #
SKU
UPC
Available for Shipping to Grab & Go Locker
Yes
Available for Shipping to Canada Post
Yes
Size
8
Brand
Product Identifiers
Walmart Item #
SKU
UPC
Available for Shipping to Grab & Go Locker
Yes
Available for Shipping to Canada Post
Yes
Size
10 IN
Brand
Product Identifiers
Walmart Item #
SKU
UPC
Available for Shipping to Grab & Go Locker
Yes
Available for Shipping to Canada Post
Yes
Size
6.5
Brand
Product Identifiers
Walmart Item #
SKU
UPC
Available for Shipping to Grab & Go Locker
Yes
Available for Shipping to Canada Post
Yes
Size
10 IN
Brand
Product Identifiers
Walmart Item #
SKU
UPC
Available for Shipping to Grab & Go Locker
Yes
Available for Shipping to Canada Post
Yes
Size
6
Brand
Product Identifiers
Walmart Item #
SKU
UPC
Size
7
Brand
Product Identifiers
Walmart Item #
SKU
UPC
Available for Shipping to Grab & Go Locker
Yes
Available for Shipping to Canada Post
Yes
Size
8.5
Brand
Product Identifiers
Walmart Item #
SKU
UPC
Available for Shipping to Grab & Go Locker
Yes
Available for Shipping to Canada Post
Yes
Size
7
Brand
Product Identifiers
Walmart Item #
SKU
UPC
Available for Shipping to Grab & Go Locker
Yes
Available for Shipping to Canada Post
Yes
Size
6
Brand
Product Identifiers
Walmart Item #
SKU
UPC
Available for Shipping to Grab & Go Locker
Yes
Available for Shipping to Canada Post
Yes
Size
7.5
Brand
Product Identifiers
Walmart Item #
SKU
UPC
Available for Shipping to Grab & Go Locker
Yes
Available for Shipping to Canada Post
Yes
Size
8.5
Brand
Product Identifiers
Walmart Item #
SKU
UPC
Available for Shipping to Grab & Go Locker
Yes
Available for Shipping to Canada Post
Yes
Size
8.5
Brand
Product Identifiers
Walmart Item #
SKU
UPC
Available for Shipping to Grab & Go Locker
Yes
Available for Shipping to Canada Post
Yes
Size
9
Brand
Product Identifiers
Walmart Item #
SKU
UPC
Available for Shipping to Grab & Go Locker
Yes
Available for Shipping to Canada Post
Yes
Size
8.5
Brand
Product Identifiers
Walmart Item #
SKU
UPC
Size
9
Brand
Product Identifiers
Walmart Item #
SKU
UPC
Available for Shipping to Grab & Go Locker
Yes
Available for Shipping to Canada Post
Yes
Size
7
Brand
Product Identifiers
Walmart Item #
SKU
UPC
Available for Shipping to Grab & Go Locker
Yes
Available for Shipping to Canada Post
Yes
Size
9
Brand
Product Identifiers
Walmart Item #
SKU
UPC
Available for Shipping to Grab & Go Locker
Yes
Available for Shipping to Canada Post
Yes
Size
7.5
Brand
Product Identifiers
Walmart Item #
SKU
UPC
Available for Shipping to Grab & Go Locker
Yes
Available for Shipping to Canada Post
Yes
Size
7.5
Brand
Product Identifiers
Walmart Item #
SKU
UPC
Available for Shipping to Grab & Go Locker
Yes
Available for Shipping to Canada Post
Yes
Size
6
Brand
Product Identifiers
Walmart Item #
SKU
UPC
Available for Shipping to Grab & Go Locker
Yes
Available for Shipping to Canada Post
Yes
Size
6.5
Brand
Product Identifiers
Walmart Item #
SKU
UPC
Size
8
Brand
Product Identifiers
Walmart Item #
SKU
UPC
Available for Shipping to Grab & Go Locker
Yes
Available for Shipping to Canada Post
Yes
Size
10 IN
Brand
Product Identifiers
Walmart Item #
SKU
UPC
Available for Shipping to Grab & Go Locker
Yes
Available for Shipping to Canada Post
Yes
Size
7.5
Brand
Product Identifiers
Walmart Item #
SKU
UPC
Available for Shipping to Grab & Go Locker
Yes
Available for Shipping to Canada Post
Yes
Size
7
Brand
Product Identifiers
Walmart Item #
SKU
UPC