Jordache Women's Super Soft Triple Stack Jean
Available in sizes 4-18.
By Jordache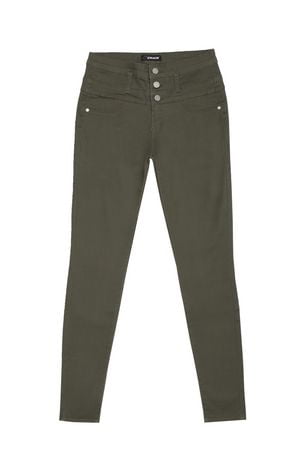 We're sorry! This product is not available. 
Get the Jordache Look, the perfect balance of style, quality and fit. Jordache Triple Stack Jegging is a high rise legging jean that offers a fit solution. With fabric that holds its shape and a fit that holds your waist, this jean features a wide waist band with 3 button closures. This jean is sure to become a wardrobe must have.
Available for Shipping to Canada Post
Yes
Care Instructions Family
Machine Wash
Cut
Not Applicable
Fabric Property
Not Applicable
Jeans Wash
Not Applicable
Length
Full-Length Pants
Material
COTTON, POLYESTER, SPANDEX
Material Family
Cotton, Polyester, Rayon Spandex
Primary Pattern
Other
Product Type
Jeans
Rise
Regular Rise
Size
8
Size Family
8
UPC with check digit internal
786658657444
Vendor Content Buffer Days
70
Brand
Product Identifiers
Walmart Item #
SKU
UPC
Available for Shipping to Canada Post
Yes
Care Instructions Family
Machine Wash
Cut
Not Applicable
Fabric Property
Not Applicable
Jeans Wash
Not Applicable
Length
Full-Length Pants
Material
COTTON, POLYESTER, SPANDEX
Material Family
Cotton, Polyester, Rayon Spandex
Primary Pattern
Other
Product Type
Jeans
Rise
Regular Rise
Size
14
Size Family
14
UPC with check digit internal
786658657475
Vendor Content Buffer Days
70
Brand
Product Identifiers
Walmart Item #
SKU
UPC
Available for Shipping to Canada Post
Yes
Care Instructions Family
Machine Wash
Cut
Not Applicable
Fabric Property
Not Applicable
Jeans Wash
Not Applicable
Length
Full-Length Pants
Material
COTTON, POLYESTER, SPANDEX
Material Family
Cotton, Polyester, Rayon Spandex
Primary Pattern
Other
Product Type
Jeans
Rise
Regular Rise
Size
10
Size Family
10
UPC with check digit internal
786658657451
Vendor Content Buffer Days
70
Brand
Product Identifiers
Walmart Item #
SKU
UPC
Available for Shipping to Canada Post
Yes
Care Instructions Family
Machine Wash
Cut
Not Applicable
Fabric Property
Not Applicable
Jeans Wash
Not Applicable
Length
Full-Length Pants
Material
COTTON, POLYESTER, SPANDEX
Material Family
Cotton, Polyester, Rayon Spandex
Primary Pattern
Other
Product Type
Jeans
Rise
Regular Rise
Size
4
Size Family
4
UPC with check digit internal
786658657420
Vendor Content Buffer Days
70
Brand
Product Identifiers
Walmart Item #
SKU
UPC
Available for Shipping to Canada Post
Yes
Care Instructions Family
Machine Wash
Cut
Not Applicable
Fabric Property
Not Applicable
Jeans Wash
Not Applicable
Length
Full-Length Pants
Material
COTTON, POLYESTER, SPANDEX
Material Family
Cotton, Polyester, Rayon Spandex
Primary Pattern
Other
Product Type
Jeans
Rise
Regular Rise
Size
6
Size Family
6
UPC with check digit internal
786658657437
Vendor Content Buffer Days
70
Brand
Product Identifiers
Walmart Item #
SKU
UPC
Available for Shipping to Canada Post
Yes
Care Instructions Family
Machine Wash
Cut
Not Applicable
Fabric Property
Not Applicable
Jeans Wash
Not Applicable
Length
Full-Length Pants
Material
COTTON, POLYESTER, SPANDEX
Material Family
Cotton, Polyester, Rayon Spandex
Primary Pattern
Other
Product Type
Jeans
Rise
Regular Rise
Size
18
Size Family
18
UPC with check digit internal
786658657499
Vendor Content Buffer Days
70
Brand
Product Identifiers
Walmart Item #
SKU
UPC
Available for Shipping to Canada Post
Yes
Care Instructions Family
Machine Wash
Cut
Not Applicable
Fabric Property
Not Applicable
Jeans Wash
Not Applicable
Length
Full-Length Pants
Material
COTTON, POLYESTER, SPANDEX
Material Family
Cotton, Polyester, Rayon Spandex
Primary Pattern
Other
Product Type
Jeans
Rise
Regular Rise
Size
12
Size Family
12
UPC with check digit internal
786658657468
Vendor Content Buffer Days
70
Brand
Product Identifiers
Walmart Item #
SKU
UPC
Available for Shipping to Canada Post
Yes
Care Instructions Family
Machine Wash
Cut
Not Applicable
Fabric Property
Not Applicable
Jeans Wash
Not Applicable
Length
Full-Length Pants
Material
COTTON, POLYESTER, SPANDEX
Material Family
Cotton, Polyester, Rayon Spandex
Primary Pattern
Other
Product Type
Jeans
Rise
Regular Rise
Size
16
Size Family
16
UPC with check digit internal
786658657482
Vendor Content Buffer Days
70
Brand
Product Identifiers
Walmart Item #
SKU
UPC