MGM Movie Collection: 6 War Movies - The Bridge At Remagen / Beach Red / Beachhead / Ambush Bay / Mosquito Squadron / 633 Squadron
MGM Movie Collection: 6 War Movies - The Bridge At Remagen / Beach Red / Beachhead / Ambush Bay / Mosquito Squadron / 633 Squadron.
By MGM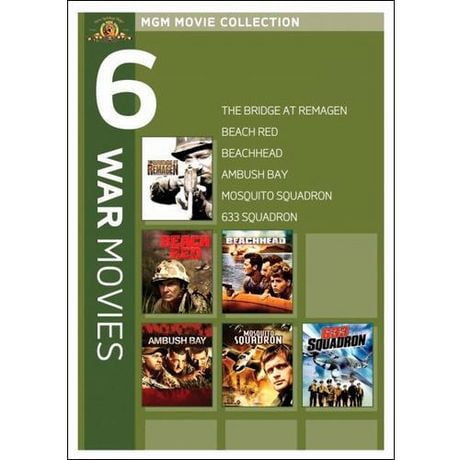 We're sorry! This product is not available. 
"The Bridge At Remagen": An all-star cast - including George Segal, Robert Vaughn, Ben Gazzara and E.G. Marshall - brings all the glory and agony of war to stunning life. 1945: The Allies are making their final advance into German territory, and only one strategic bridge on the Rhine River remains in Nazi hands. Both sides have much to gain: the Germans, the lives of 50,000 soldiers stationed on the wrong side of the bridge; and the Allies, a quicker end to the war with fewer lives lost. Though both armies would fight valiantly, only one could win the heart-rending battle for "The Bridge at Remagen". "Beach Red": Starring Oscar(R) nominee Cornel Wilde and Rip Torn, "Beach Red" marked "a real breakthrough in American war picture production"(New York Post), because it "takes pains to show the terror on both sides" (Cue). After a gory battle to take the beach on a Japanese-held island in the Pacific, Captain MacDonald (Wilde) asks Sergeant Honeywell (Torn) to lead a squad on a perilous journey deep into the jungle to find the enemy's stronghold. The scouts soon learn that the Japanese are preparing to strike back hard and fast. In the hours to come, whose blood will soak the sand red? "Beachhead": Oscar(R) nominee Tony Curtis "blends hard-hitting toughness with humor" (Los Angeles Times) as a Marine who must battle Japanese soldiers, private demons and fellow Marines in this "gripping" (Variety) World War II saga. Four Marines embark on a hazardous island mission to verify reports about a secret Japanese minefield. The intelligence comes from a French planter who mayor may not be an Allied spy and his beautiful daughter. If their story is true, can the Marines outgun their enemies, make it through the treacherous jungle, and rendezvous with American forces in time to prevent disaster? "Ambush Bay": General MacArthur doesn't know it, but he's headed for an ambush. Hugh O'Brian, Mickey Rooney and James Mitchum star in this "well-made" (Los Angeles Times WWII nail-biter that'll keep you on the edge of your seat with "consistent excitement" (The Film Daily) right until the explosive ending. A marine patrol secretly lands on the Japanese-occupied island of Siarago. Their mission: to locate a Japanese-American girl with vital information concerning General MacArthur's pending Philippine invasion. What they uncover instead is a Japanese plot to detonate underwater mines as the US fleet enters the bay. Cut off from outside communication, these brave marines must find a way to prevent what could be the worst naval tragedy from ever happening. "Mosquito Squadron": As Allied forces struggle against the awesome might of the German Luftwaffe, an even greater threat is posed by the destructive V3 rocket nearing completion at a secret testing center. The Royal Air Force's Mosquito Squadron gears up to destroy the site, but its leader, Quint Monroe (McCallum), becomes conflicted when he discovers that the air strike may kill hundreds of British POWs including the squad's former commander! "633 Squadron": Based on true events, this "exciting, engrossing [and] breathtaking" (The Hollywood Reporter) action-adventure stars Oscar(R) winners Cliff Robertson and George Chakiris as two WWII fliers pitted against the Nazis in a do-or-die mission. 1944, Allied forces learn that the Nazis are planning to pummel England with an all-out rocket blitz. The only way to stop the threat is to send Mosquito bombers into narrow Norwegian fjords to create an avalanche that will crush the Nazis' rocket-fuel plants. Can Wing Commander Roy Grant (Robertson) and the boys of the courageous 633 Squadron pull it off? And if so, will they live to reap the glory.
Cast
George Segal, David McCallum, Cornel Wilde, Rip Torn, Tony Curtis, Mickey Rooney, James Mitchum
English rating
NR
Format
DVD
Language
English
Number of discs
6
Quebec rating
NR
Run time (minutes)
604
Studio
20th Century Fox Home Entertainment
Brand
Product Identifiers
Walmart Item #
SKU
UPC