One Touch Cordless Aluminum - Ivory, 44 W x 64 H to 72 W x 64 H (in inches)
More Sizes Available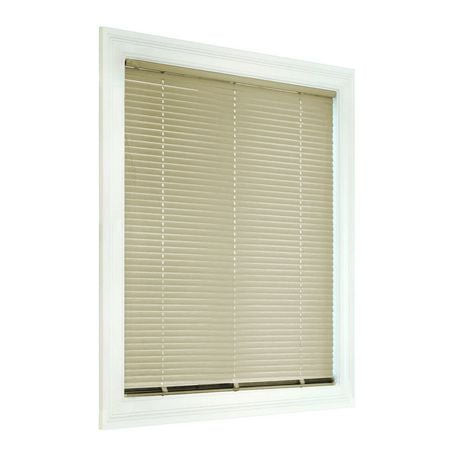 We're sorry! This product is not available. 
The one touch cordless aluminum is child and pet friendly as there are no cords to worry about. Just raise and lower the shade by pulling on the bottom rail this shade can be used in any room of the home.
Dimensions range from 44 W x 64 H to 72 W x 64 H (in inches) with 1" Width intervals.
Valance returns not included
How to Measure
Inside Mount or Outside Mount?
Before you place your order, you should decide how to mount your blinds. There are two options:
Inside Mount. This means that the blinds are hung inside the window casing and you will see the moulding or trim that surrounds the windows after the blinds are installed.
Outside Mount. The blinds are hung on or above the window moulding or directly on the ceiling or wall
Measuring for an Inside Mount
Measure the width three times (top, middle, and bottom) of the window. This is because windows are rarely perfect squares.
Record the smallest width of the three you recorded. This will ensure that your blind will fit in the opening.
Measure the height from the center of your window.
Measuring for an Outside Mount
Measure the width and height of the area you wish to cover.  When measuring the width, we recommend you add 2" on each side to minimize light leaks and optimize your privacy.
When measuring the height, measure high enough above the window frame to allow room to mount the headrail. 
Record exact measurements.
Size
46 x 64
Brand
Product Identifiers
Walmart Item #
Model #
SKU
UPC
Size
61 x 64
Brand
Product Identifiers
Walmart Item #
Model #
SKU
UPC
Size
48 x 64
Brand
Product Identifiers
Walmart Item #
Model #
SKU
UPC
Size
58 x 64
Brand
Product Identifiers
Walmart Item #
Model #
SKU
UPC
Size
70 x 64
Brand
Product Identifiers
Walmart Item #
Model #
SKU
UPC
Size
52 x 64
Brand
Product Identifiers
Walmart Item #
Model #
SKU
UPC
Size
65 x 64
Brand
Product Identifiers
Walmart Item #
Model #
SKU
UPC
Size
49 x 64
Brand
Product Identifiers
Walmart Item #
Model #
SKU
UPC
Size
55 x 64
Brand
Product Identifiers
Walmart Item #
Model #
SKU
UPC
Size
57 x 64
Brand
Product Identifiers
Walmart Item #
Model #
SKU
UPC
Size
67 x 64
Brand
Product Identifiers
Walmart Item #
Model #
SKU
UPC
Size
62 x 64
Brand
Product Identifiers
Walmart Item #
Model #
SKU
UPC
Size
54 x 64
Brand
Product Identifiers
Walmart Item #
Model #
SKU
UPC
Size
63 x 64
Brand
Product Identifiers
Walmart Item #
Model #
SKU
UPC
Size
50 x 64
Brand
Product Identifiers
Walmart Item #
Model #
SKU
UPC
Size
71 x 64
Brand
Product Identifiers
Walmart Item #
Model #
SKU
UPC
Size
51 x 64
Brand
Product Identifiers
Walmart Item #
Model #
SKU
UPC
Size
56 x 64
Brand
Product Identifiers
Walmart Item #
Model #
SKU
UPC
Size
66 x 64
Brand
Product Identifiers
Walmart Item #
Model #
SKU
UPC
Size
53 x 64
Brand
Product Identifiers
Walmart Item #
Model #
SKU
UPC
Size
72 x 64
Brand
Product Identifiers
Walmart Item #
Model #
SKU
UPC
Size
60 x 64
Brand
Product Identifiers
Walmart Item #
Model #
SKU
UPC
Size
68 x 64
Brand
Product Identifiers
Walmart Item #
Model #
SKU
UPC
Size
44x64
Brand
Product Identifiers
Walmart Item #
Model #
SKU
UPC
Size
47 x 64
Brand
Product Identifiers
Walmart Item #
Model #
SKU
UPC
Size
64 x 64
Brand
Product Identifiers
Walmart Item #
Model #
SKU
UPC
Size
69 x 64
Brand
Product Identifiers
Walmart Item #
Model #
SKU
UPC
Size
45 x 64
Brand
Product Identifiers
Walmart Item #
Model #
SKU
UPC
Size
59 x 64
Brand
Product Identifiers
Walmart Item #
Model #
SKU
UPC