PC Max Payne 3
PC Max Payne 3, an electronic code will be emailed to you by Codes 2 GO Inc. with purchase.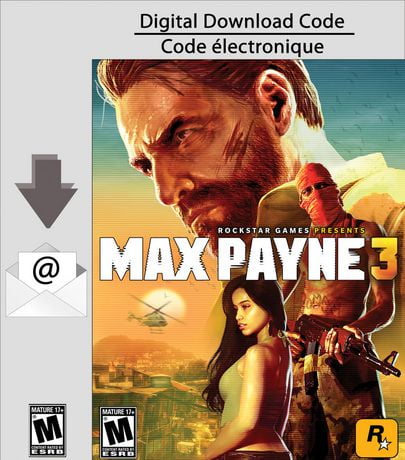 We're sorry! This product is not available. 
All digital sales are final. When you purchase this item an electronic code will be emailed to you by Codes 2 GO Inc. normally within 24 hours after completing your purchase. Please ensure to provide the correct email address when placing your order.
This PC game is digitally downloaded through Steam. Once the game has been purchased, you will be emailed your redemption code and instructions regarding installation. You will then need to register through the Steam website in order to download and play.
For Max Payne, the tragedies that took his loved ones years ago are wounds that refuse to heal. No longer a cop, close to washed up and addicted to pain killers, Max takes a job in São Paulo, Brazil, protecting the family of wealthy real estate mogul Rodrigo Branco, in an effort to finally escape his troubled past. But as events spiral out of his control, Max Payne finds himself alone on the streets of an unfamiliar city, desperately searching for the truth and fighting for a way out.
Featuring cutting edge shooting mechanics for precision gunplay, advanced new Bullet Time® and Shootdodge™ effects, full integration of Natural Motion's Euphoria Character Behavior system for lifelike movement and a dark and twisted story, Max Payne 3 is a seamless, highly detailed, cinematic experience from Rockstar Games.
• Developed by Rockstar Games for a seamless, highly detailed, cinematic experience
• Advanced Bullet Time® and Shootdodge™ and Final Kill-cam mechanics for stylish shooting action
• Cutting edge aiming, targeting and animation processes for precise, fluid gunplay
• A dark, twisted story chronicling the return of Max Payne, one of the most iconic characters in videogames
• Tight integration between Natural Motion's Euphoria Character Behavior System and a brand new iteration of the Rockstar Advanced Game Engine (RAGE) for lifelike movement and a new level of environmental awareness
• A wide range of weapons rendered in incredible detail: hammers cock back, shells eject from the chamber and each bullet is individually modeled from the split second it's fired to the moment of impact
• Advanced particle physics and destructible environments set the stage for dramatic and chaotic gun fights
• Retired Feature: Online Multiplayer for Max Payne 3 on Mac will no longer be available in-game as of 5/31/14.
• OS: Windows 7 32/64 Service Pack 1, Windows Vista 32/64 Service Pack 2, Windows XP 32/64 Service Pack 3
• Processor: Intel Dual Core 2.4 GHZ - i7 3930K 6 Core x 3.06 GHZ / AMD Dual Core 2.6 GHZ - FX8150 8 Core x 3.6 GHZ
• Memory: 2GB - 16GB
• Hard Disk Space: 35 Gigs
• Video Card: NVIDIA® 8600 GT 512MB VRAM – NVIDIA® GeForce® GTX 680 2GB VRAM / Radeon HD 3400 512MB VRAM - Radeon HD 7970 3GB VRAM
• Sound Card: 100% Direct X 9.0 compatible – Direct X 9.0 compatible supporting Dolby Digital Live
• Additional:Please refer to your hardware manufacturer and www.rockstargames.com/support for current compatibility information. Some system components such as mobile chipsets,
• Integrated, and AGP graphics cards may be incompatible. Unlisted specifications may not be supported by publisher.
• Other Requirements: Initial activation requires internet connection and a valid Rockstar Social Club account (13+ to register); Online play requires log-in to Rockstar Social Club (13+); software installation required including GameShield IronWrap; DirectX and Microsoft Visual C++ 2008 SP1 Redistributable Package (x86).


• Steam account required for game activation and installation.
• You must accept the license available online at rockstargames.com/eula. Non-transferable access to special features such as exclusive, unlockable, downloadable or online content, services, or functions may require single-use serial code, additional fee and/or online account registration (13+). Violation of EULA, Code of Conduct, or other policies may result in restriction or termination of access to game or online account. Access to special features may require internet connection, may not be available to all users, and may, upon 30 days' notice, be terminated, modified, or offered under different terms. The content of this videogame is purely fictional, and is not intended to represent or depict any actual event, person, or entity. The makers and publishers of this videogame do not in any way endorse, condone or encourage engaging in any conduct depicted in this videogame. Unauthorized copying, reverse engineering, transmission, public performance, rental, pay for play, or circumvention of copy protection is strictly prohibited.

• For information about online services, fees, restrictions, or software license terms that may apply to this game, please visit www.rockstargames.com .
• Rockstar Games, 622 Broadway, New York, NY, 10012

• ©2004 - 2012 Rockstar Games, Inc. Rockstar Games, Rockstar Studios, Max Payne, and the Rockstar Games R* marks and logos are trademarks and/or registered trademarks of Take-Two Interactive Software, Inc. in the U.S.A. and/or foreign countries. Dolby and the double-D symbols are trademarks of Dolby Laboratories. DTS and the DTS Symbol are registered trademarks of DTS, Inc. and DTS Digital Surround is a trademark of DTS, Inc. Uses Bink Video. Copyright © 1997-2012 by RAD Game Tools, Inc. © 2011 NVIDIA Corporation. NVIDIA, the NVIDIA logo, and The Way It's Meant To Be Played are trademarks and/or registered trademarks of NVIDIA Corporation. Bullet Time is a registered trademark owned by Warner Bros. Entertainment, Inc. The ratings icon is a trademark of the Entertainment Software Association. All other marks and trademarks are properties of their respective owners. All rights reserved.
Available for Shipping to Canada Post
Yes
Computer Video Game Format
Digital Downloads
ESRB rating
M (Mature 17+)
Brand
Product Identifiers
Walmart Item #
SKU
UPC