Prestone LongLife™ Antifreeze/Coolant -DEX-COOL® Formula
Prestone LongLife™ Antifreeze/Coolant -DEX-COOL® Formula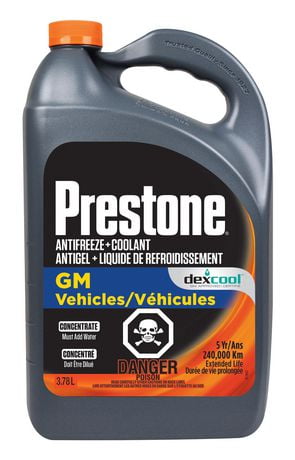 Prestone® LongLife™ Antifreeze/ Coolant is recommended and formulated for use in all vehicles that require DEX-COOL® coolant, as well as all other cars and light duty trucks with aluminum radiators using extended life coolant. This patented formula has a concentrated blend of premium long-lasting inhibitors for extended performance, protecting against temperature extremes and the ravages of rust and corrosion for up to 5 years or 240,000 kms., when added to ANY extended/long life antifreeze/coolant
Protection – Minimum 50% Prestone/ 50% Water. Maximum 70% Prestone/30% Water
Freeze-Up- Minimum:-34 ° F./ - 37 °C . Maximum:-84 °F/-64 °C (at 70% Prestone*)
Boiling over: Minimum:+265°F./+129 °C. Maximum: +276°F/+136°C (at 70% Prestone*)

* Using a 15 lb. pressure cap in good condition).

DEX-COOL and GM are registered trademarks of General Motors Corporation.
Brand
Product Identifiers
Walmart Item #
Model #
SKU
UPC
This item is final sale, but if you have any issues you can contact the manufacturer directly. Our manufacturers are always here to help with any technical issues.