Red Dead Redemption (Xbox 360)
RED DEAD REDEMX360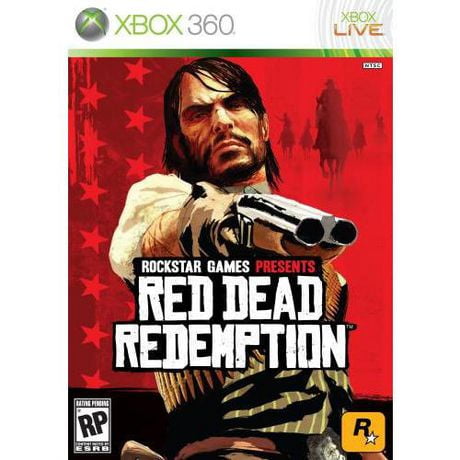 We're sorry! This product is not available. 
America, early 1900's. The era of the cowboy is coming to an end. When federal agents threaten his family, former outlaw John Marston is sent across the American frontier to help bring the rule of law. Experience intense gun battles, dramatic train robberies, bounty hunting and duels during a time of violent change. Red Dead Redemption is an epic Open world: It's the biggest and most action-packed world ever made. Experience a treacherous and unpredictable open world spanning miles of rugged terrain: from townships thriving on vice and corruption, ghost towns, gang hideouts, and military outposts to the mountains, deserts, and plains where violent looters, rebels, bandits, and deadly animals prey on the weak in a never-ending battle for survival. A fight for survival: Betrayed by the government, his family kidnapped, former outlaw John Marston is forced to pick up his guns once again to track down and eliminate his former comrades-in-arms. Fight to survive the lawless frontier as you storm gang hideouts, search for treasure, rob or protect trains, and track criminals for bounty. Hunt animals for skins and duel enemies for money and fame, then risk your reputation and your winnings drinking, shooting, and gambling from town to town. Gun battles: Take up arms in brutal battles, from intense personal duels to full-scale war using shotguns, pistols, sniper rifles, explosives, and the very first automatic weapons. Use a sharpshooter's Dead Eye skill to take down enemies with deadly accuracy in dramatic Western-style gunfights. Honor or Infamy: Choose Honor or Infamy as you decide who to rescue and who to kill, opening up new opportunities with each decision you make.
Massive Third-Person ActioNAdventure
Experience an epic storyline or engage in hundreds of side missions including bounty hunting, robberies, races, duels and more.
Huge, Detailed Open World
Features a stunningly detailed recreation of turn-of-the-century America with breathtaking wide-open vistas, scorched earth, and authentic desolate frontier towns.
Technologically Advanced
An evolution of Natural Motion physics and animation technology as used in Grand Theft Auto IV. Location-based damage affects enemy behaviour, animals move realistically, and vehicles use sophisticated motion and destruction modeling
ESRB rating
M (Mature 17+)
Platform
Microsoft Xbox 360
Series
n/d
Studio
n/d
Brand
Product Identifiers
Walmart Item #
SKU
UPC