Secret Winter Escape Gift Set
Secret & Olay
By Secret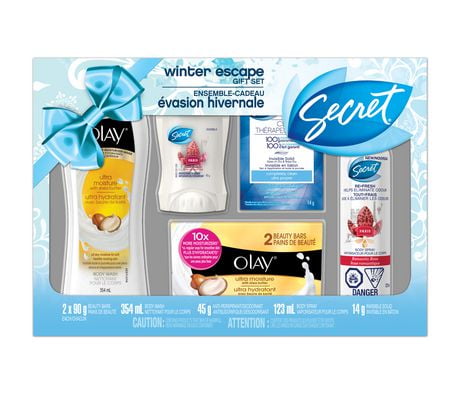 We're sorry! This product is not available. 
Olay Ultra Moisture Beauty Bar 90 g
Olay Ultra Moisture beauty bar goes beyond cleansing, delivering Olay deep moisturizers to the skin while helping to wash away dry, surface cells. So after you dry off, all that's left is skin that feels clean and wonderfully smooth all over.
• 10x more moisturizers than regular soap for smoother skin
• With Shea Butter
• Gentle enough to use on your face
Olay Ultra Moisture Body Wash with Shea Butter 354 mL
• Gentle, soap-free formula for extra dry skin rinses clean.
• For the following skin types: Extra Dry, Dry
• Helps with these skin concerns: Dry/flaky skin, Dull Skin, Rough knees/elbows, Itchy skin
• You'll love Olay Ultra Moisture Body Wash because it nourishes with moisturizers and vitamin E, A & B3, contains a soap-free formula that rinses clean, leaving no residue, can be used as a shaving aid.
•
Secret Clinical Strength Invisible Solid Women's Antiperspirant & Deodorant Completely Clean Scent 14 g
Prescription-strength wetness protection! Did you know heat, activity, and stress can all cause you to sweat and that stress sweat smells worse than other kinds of sweat? Stress sweat comes from a different gland—causing more bacteria and more odor. Protection from stress sweat and 100% odor protection* (*As typically noticed by others.) It absorbs odor while releasing scent to keep you smelling clean and feeling dry. Plus, it's doctor-recommended and was the #1 awarded antiperspirant/deodorant among beauty magazines.** Enjoy all-day coverage with Secret Clinical Strength Antiperspirant/Deodorant—incredible protection, no matter what the day may bring.
(*Vs. the wetness protection required of an ordinary antiperspirant. **For 2008–2010.)
Secret Destinations Collection Invisible Solid Women's Antiperspirant & Deodorant Paris Romantic Rose Scent 45 g
Take a fresh-smelling getaway with Secret Destinations Invisible Solid Antiperspirant/Deodorant! Secret Destinations gives you exotic scents combined with 48-hour odor protection that helps to keep you feeling dry and smelling fresh. For all-day freshness you'll notice, try Secret Destinations in our three amazing scents. Invisible Solid: Protection that goes on dry.
• Odor protection and noticeably long-lasting scents
• The fresh scents of exotic destinations
• Paris Romantic Rose: Get swept off your feet with this warm, delicately sweet floral scent
• Secret Destinations Invisible Solid Antiperspirant/Deodorant
• Protection that goes on dry
Secret Body Spray, Paris Romantic Rose Scent 123 mL
Get a burst of all-day scent with Secret Destinations Body Spray! It's designed with odour neutralizers to keep you fresh and smelling great. Each scent takes you to an exciting destination sure to get your senses going. Find your perfect getaway in one of three Secret Destinations scents—Hawaii Citrus Breeze, Paris Romantic Rose, or Brazil Rainforest Mist.
Brand
Product Identifiers
Walmart Item #
SKU
UPC