Ubisoft PC Tom Clancy's HAWX
PC Tom Clancy's HAWX, an electronic code will be emailed to you by Codes 2 GO Inc. with purchase.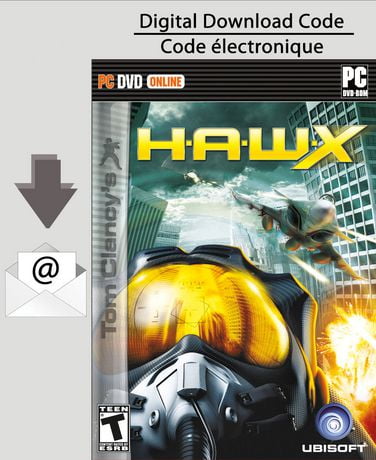 We're sorry! This product is not available. 
All digital sales are final. When you purchase this item an electronic code will be emailed to you by Codes 2 GO Inc. normally within 24 hours after completing your purchase. Please ensure to provide the correct email address when placing your order.
This PC game is digitally downloaded through Uplay. Once the game has been purchased, you will be emailed your redemption code and instructions regarding installation. You will then need to register through the Uplay website in order to download and play.
The setting is 2012. As the era of the nation-state draws quickly to a close, the rules of warfare evolve even more rapidly. More and more nations become increasingly dependent on Private Military Companies (PMCs) – elite mercenaries with a lax view of the law. The Reykjavik Accords further legitimize their existence by authorizing their right to serve in every aspect of military operations. There goes the neighborhood… Tom Clancy's HAWX lets you become a pilot of the future; it is an awe-inspiring game primed to revolutionize the way you think about combat in the sky. Cutting-edge technology, devastating firepower, and intense dogfights bestow this new title a deserving place in the prestigious Tom Clancy franchise.
ENHANCED REALITY SYSTEM (E.R.S)
E.R.S. is in-game technology that helps turn novice aviators into elite pilots of the future. The Enhanced Reality System is the backbone of your flight experience: radars and incoming missile detection, damage control system, tactical map and information relay, and weapons trajectory control. E.R.S. also allows you to issue orders to your squadron, making this system as iconic to Tom Clancy's HAWX as the Cross-Com system is to Ghost Recon Advanced Warfighter!
DUAL GAMEPLAY
Want to ease into your flight missions and gain a level of comfort? Turn on the assistance mode and take full advantage of your E.R.S. Need to evade your enemy and execute advanced dog-fighting moves? Switch off the assistance mode and feel the adrenaline rushing through your veins as you play in stunning 3rd person views.
INNOVATION IN MULTIPLAYER
For the first time ever in the Air Combat genre, experience the entire solo campaign in JUMP IN/JUMP OUT co-op mode. In PVP mode, challenge your friends in intense dog-fighting sessions and find out who's the top gun.
REALISM AND AUTHENTICITY
Take the throttle of over fifty of the world's most famous aircrafts. Dogfight over the most realistic and modern landscapes as the elite pilot of tomorrow. With support from NASA and the U.S. Geological Survey (USGS), Tom Clancy's HAWX goes supersonic with its authenticity and breathtaking graphics.
• OS: Windows® XP (with Service Pack 3) or Windows Vista® (with Service Pack 1)(only)
• Processor: Intel® Pentium® 4 2.0 GHz, or AMD Athlon XP 2000+ or higher (Intel Core 2 Duo 6320 / AMD Athlon X2 4000+ or higher recommended)
• Memory: 1 GB (Windows XP) (2 GB recommended), 2 GB Windows Vista
• Graphics: 128 MB DirectX®–compliant, Shader 2.0–enabled video card (256 MB DirectX 10.0–compliant video card or DirectX 9.0–compliant card with Shader Model 3.0 or higher recommended) (see supported list*)
• DirectX Version: DirectX 9.0 or 10.0 libraries (included)
• Hard Drive: 7 GB
• Sound: DirectX 9.0–compliant sound card
• Peripherals Supported: Windows-compliant keyboard, mouse, optional controller (Xbox 360® Controller for Windows recommended)
• Multiplayer: Broadband connection with 128 kbps upstream or faster / LAN connection

• *Supported Video Cards at Time of Release:
• Shader Model 2.0: NVIDIA® GeForce® 59xx, ATI® RADEON® X8xx / 9800
• Shader Model 3.0 / 4.0: NVIDIA® GeForce® 6/7/8/9 series, ATI® RADEON® X1300XT / X1650-1950/HD 2000/3000/4000 series, ATI® Crossfire, NVIDIA SLI
• Sound Cards Supported: Creative Audigy I, II, and IV series, Creative X-FI series, Realtek HD Audio compatible, Realtek AC97 Audio compatible, Hercules Series
• Game Pad Supported: Gembird Dual Force GamePad, Logitech Dual Action, Logitech Extreme 3D, LOGITECH EXTREME 3D PRO, LOGITECH FREEDOM 2.4 CORDLESS JOYSTICK, Logitech Rumblepad 2, Mad Catz, SAITEK AVIATOR, SAITEK CYBORG EVO, SAITEK CYBORG EVO FORCE, SAITEK CYBORG ST 90 JOYSTICK, Saitek FPS, Saitek P2600 Rumble, Saitek P880, Saitek X52 Flight Control System, Sony Analog Controller (with Dual PSX-USB Adaptor), THRUSTMASTER AFTERBURNER II, Thrustmaster Dual Trigger, Thrustmaster Dual Trigger Force, Thrustmaster FireStorm Dual Analog 3, Thrustmaster FireStorm Dual Power 3 Gamepad, Thrustmaster HOTAS Cougar Joystick, Thrustmaster Run'N' Drive, Thrustmaster Run'N' Drive 3-in-1 Rumble Force, Thrustmaster T.Flight Stick X, Thrustmaster T-Mini, THRUSTMASTER TOP GUN FOX 2 PRO, TRUST PREDATOR, TRUST QZ 501 PREDATOR, Xbox360 Controller.
• Other controllers may work but functionality may vary.
• Laptop versions of these cards may work but are NOT supported. These chipsets are the only ones that will run this game. For the most up-to-date minimum requirement listings, please visit the FAQ for this game on our support website at: http://support.ubi.com.
• NVIDIA® nForce™ or other motherboards/soundcards containing the Dolby® Digital Interactive Content Encoder required for Dolby Digital audio.
Available for Shipping to Canada Post
Yes
Computer Video Game Format
Digital Downloads
ESRB rating
T (Teen 13+)
Brand
Product Identifiers
Walmart Item #
SKU
UPC