Uniden® U60 Cellular Booster Kit
with Outdoor Post & Indoor Whip Antennas & 30ft U5D Cable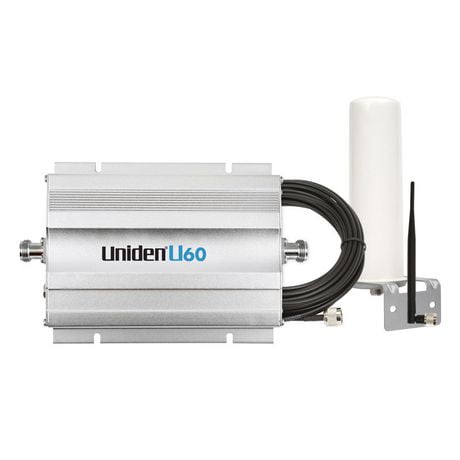 Enjoy crystal clear phone calls and lightning fast data speeds.
Eliminate dead zones, make dropped and missed calls a thing of the past and extend your cellular signal coverage in small spaces like your office, basement, garage or workshop.
The Uniden U60 cellular signal booster kit has 60 dB of gain, which can boost your weak cellular signal and give you up to 2,000 sq. ft of improved cellular coverage (Dependent on the strength of your input signal). This kit works great when your signal outside is weak (1 to 2 bars), but if your outdoor signal is extremely weak (1 bar or less) you may consider a more powerful booster like the Uniden U65 or Uniden U70.
It has never been easier to enjoy crisp, clear and consistent cellular signal. This kit is plug and play, it is easy to install, and comes complete with everything you need to increase your cellular signal. The outdoor antenna that is included in this kit is a post omni directional antenna with a 360 degree reach and is designed to capture the signal from multiple operators' towers. It works great in urban areas.
Wireless World: Phone, Smart Phones, and Tablets & Data Cards
Few things are more frustrating than a weak cellular signal causing dropped calls, hanging web pages, frozen video streams and blocked online games. Wirelessly connect up to 20 of your favorite cellular devices, and get a boosted signal on all 3G and some 4G networks. It is a dual band booster and will boost all networks using the 850MHz and 1900MHz frequency range.
Reliability & Quality
Your booster works hard so your device doesn't have to; this saves your battery and reduces the radiation your phone emits. You will enjoy many years of trouble free performance from the Uniden U60 cellular signal booster kit with its superior build and quality craftsmanship. The booster uses industrial quality components like the metal shell and N type connectors as well as having an advanced set of technical features (see below).
Support: Our passion is fixing cellular signal!
Enjoy lifetime service and technical support (Canadian based) and 2 year warranty. We love to help you fix your signal. Our support team is available by phone, email and live chat to answer any question you have about your cellular signal issues. Whether you need help choosing a product that is right, or advice on setting it up. Call us at 1-800-215-7015 and get expert advice for free.
Technical Specifications
• Dual Band Frequency Ranges: 824 – 894 MHz / 1850 – 1990 MHz
• Gain: 55 dB / 60 dB
• Max. Uplink power: ≥ 10 dBm
• Max. Downlink power: ≥ 10 dBm
• Power requirements: Input AC90~264V, output 7.5V / 2A

Technical Features
• Manual gain controls on the uplink and the downlink, let you set it and forget it!
• Automated Gain & Level Control ensures solid coverage even when your incoming signal is intermittent.
• Automatic Shut Off ensures your system will protect itself and the carrier network in case of signal overload.

What's In the Box
• Uniden U60 Booster
• Uniden Outdoor Post Omni Directional Antenna 5 dbi
• Uniden Indoor Whip Omni Directional Antenna 5 dbi
• Uniden U5D Low Loss Coaxial Cable -30 ft
• 110V Power Adapter
• Installation & User Guide
Brand
Product Identifiers
Walmart Item #
SKU
UPC